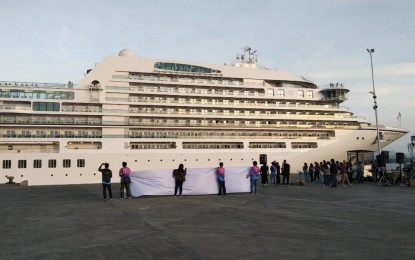 PUERTO PRINCESA CITY, Palawan – This city's tourism industry has received a major boost with the arrival of the first cruise ship in the country after three years due to the pandemic.
Seabourn Encore docked at the Puerto Princesa City seaport on Thursday morning, signaling the return of cruise ship tourism since the onset of the Covid-19 health crisis in 2020.
The ship which came from Singapore carried 512 passengers and 482 crew, 200 of whom are Filipinos.
Department of Tourism-Mimaropa Regional Director Zenny Pallugna said the return of the cruise ship tourism is a welcome development as it is expected to aid the recovery of the country's economy.
"Puerto Princesa is very fortunate with Seabourn Encore. This is its first stop after sailing from Singapore," Pallugna said in an interview.
"Right now, there are already 22 scheduled cruise calls in Palawan and we are expecting 41 in Mimaropa with more than 47,000 passengers plus the crew, so that's around 60,000 arrivals just for the cruise ships. That's a big development for the department, especially as we open our borders to foreign travelers," she added.
Pallugna said they will try to invite Tourism Secretary Ma. Esperanza Christina Frasco to welcome a bigger cruise ship scheduled to arrive in the city on March 4.
She noted that they are targeting to have more cruise ship arrivals this year.
"Pre-pandemic, that was year 2019, we had 159 cruise calls for the entire country. This year, we are only in the first quarter and we already have confirmed 141 cruise calls. That's a very big boost to our tourism industry, especially with the department targeting around 4.9 million foreign tourist arrivals," she said.
Meanwhile, City Tourism Department chief Demetrio Alvior Jr. said the return of the cruise ship will further boost the recovery of Puerto Princesa's tourism industry.
While the industry has yet to fully return to its pre-pandemic status, he said the recovery is going faster than expected.
"We're happy because our city is their priority as destination, and we expect this to be just the start. It's a major boost to our tourism industry. During the pandemic, we expected to recover in three to four years. With this development, we are expecting to recover economically much faster," Alvior said.
He, however, said that connectivity in the city is not yet in full swing as flights are still limited.
"Our regional director is working on the return of direct flights from Davao, Siargao, Ilo-ilo and Clark. It will be a big help for the recovery of our tourism industry," Alvior said.
Mayor Lucilo Bayron, on the other hand, said it is an honor for the city to be the first port of call for a cruise ship in the country.
He said he is expecting cruise ship tourism to play a big role in the city's economy.
"We are projecting that there will be more to come that's why we requested the DPWH (Department of Public Works and Highways) to construct a bigger cruise port – the 500-meter port in Quito. This cruise ship industry is a big help in our economy," Bayron said. (Gerald Ticke/PNA)