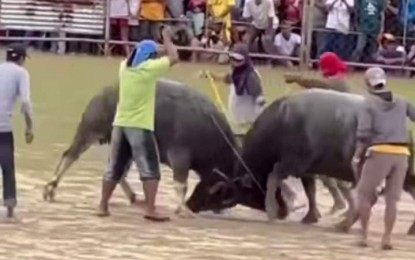 SAN JOSE DE BUENAVISTA, Antique – A councilor of the municipality of Tobias Fornier in Antique is pushing for their Pasungay or bullfight event to be preserved and declared as an intangible cultural property.
Municipal Councilor Dindo John Lignig, in an interview on Thursday, said they are in the process of conducting committee hearings about his proposed ordinance declaring the Pasungay as an intangible cultural property and providing rules and regulations for its conduct.
"Pasungay is a long-standing, deeply rooted intangible cultural property adopted by the people that permeates the livelihood and lifestyle of Tobias Fornier, from wedding to childbirth to childrearing and grain harvest," he said.
It is also held during the Panidlak when farmers search for the strongest bull or carabull to be used to plow their fields at the start of their planting season as part of their religious rites to have a good harvest.
Republic Act 10066 or the "National Heritage Act of 2009 defines intangible cultural property as the people's learned processes along with the knowledge, skills, and creativity that inform and are developed by them, the products they create, and the resources, spaces, and other aspects of social and natural context necessary for their sustainability."
Lignig added that while the Pasungay has to be preserved, the conduct has to be regulated because of hazards.
"There are times when owners or handlers even get themselves trampled down or meet an accident because of the bullfight," he said.
Lignig said pushing for the ordinance to be approved on second and third readings so that a Pasungay oversight committee, to be chaired by the municipal tourism officer, would regulate the event.
"The committee, as one of its functions, will be to check the place where the Pasungay will be held during fiestas or Easter Sunday and see if it meets the space and physical arrangement requirements," Lignig said.
The committee will have the authority to stop or cancel the bullfights at any time for the sake of public safety and security.
The town councilor, in his proposed ordinance, said the Pasungay does not violate Republic Act 10631 or the Animal Welfare Act because it does not categorically ban bullfighting, which has been a part of the customs and rituals of the people of Tobias Fornier. (PNA)