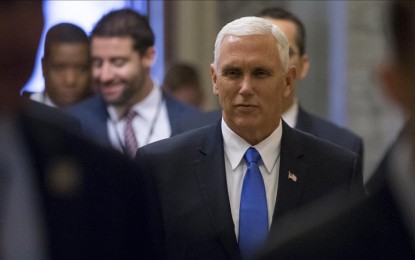 NEW YORK – Former US Vice President Mike Pence has been subpoenaed by the special counsel overseeing investigations into former President Donald Trump, media reports said Thursday.
US media cited sources as saying that special counsel Jack Smith was looking into documents and testimony regarding the Jan. 6, 2021 attack on the US Capitol.
Smith leads the Justice Department's investigation into classified documents found in Trump's Mar-a-Lago home in Florida and a separate investigation involving the Jan. 6 attack.
Trump's supporters violently besieged the Capitol slightly over two years ago, overrunning barricades and attacking police before invading the building that many Americans view as a bastion of democracy.
The events that day mark the first time the Capitol was attacked since the War of 1812.
It was Trump who implored them to come to the nation's capital on his still unproven claims of widespread voter fraud that he claims resulted in his electoral defeat to Joe Biden.
Trump lost the 2020 presidential election by over 7 million votes, and his allegations have been met with over five dozen legal defeats. They were also rejected by his attorney general, William Barr, who left the Justice Department in the final days of the administration as Trump sought a way to retain power.
Five people died as a result of the violence on Jan. 6, 2021, while in the aftermath, four law enforcement officers died by suicide. (Anadolu)