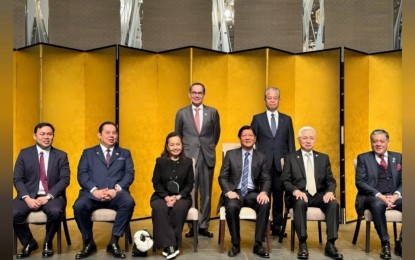 MANILA – President Ferdinand R. Marcos Jr. has witnessed the signing of memorandum of understanding (MOU) on clean technology between Aboitiz Power Corp. and Japan's largest power generation firm, JERA Co., Inc., during his official visit in Japan.

In a disclosure to the Philippine Stock Exchange, AboitizPower said its chairperson Sabin Aboitiz and JERA president Satoshi Onoda signed an MOU to explore 'greener fuel', which involves the use of ammonia and hydrogen in power generation.

Through the MOU, AboitizPower and JERA will undertake feasibility assessment on ammonia co-fired power generation and the development of the ammonia and hydrogen value chains in the country.
The use of alternative fuels supports the government's initiatives toward reducing carbon footprint to mitigate the impacts of climate change.

"By joining forces in the pursuit of greener fuels, our two companies are not only advancing the cause of sustainability, but also paving the way for a cleaner and more vibrant future. Ammonia offers a compelling solution for decarbonizing the power sector and by looking into it, we are taking a step towards developing the infrastructure needed to support the ammonia and hydrogen value chains," Aboitiz said.

AboitizPower said applying the greener fuel technology to the existing coal-fired power plants will result in a reduction of carbon dioxide emission by up to 50 percent.

"Through this collaboration, we will support Aboitiz's power decarbonization efforts while also considering additional opportunities for advancing technology development in the Philippines. This MOU allows JERA to leverage its experience and capabilities to support both AboitizPower and the Philippines to reach their emissions targets," Onoda said.

In 2021, JERA bought 25.01 percent in AboitizPower from Aboitiz Equity Ventures, Inc. at USD1.463 billion, and another 1.99 percent from Aboitiz family's privately held firm Aboitiz & Company.

During his meeting with Japanese firms Thursday, Marcos underscored the importance of AboitizPower-JERA partnership in the development of the country's power sector.

"Of course, the investment is important, but the transfer of technology is also extremely important and that will give the Philippines a self-sufficiency, which we have been missing," he said. (PNA)