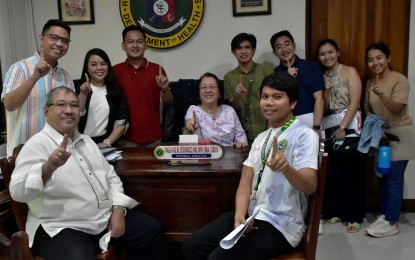 MALASIQUI, Pangasinan – The Department of Health (DOH) has deployed seven doctors who graduated from the Doctors to the Barrios (DTTB) Program to several provinces of the Ilocos Region to give health care services to depressed, marginalized and underserved communities.
"These medical doctors will be responsible for implementing the national and local health programs. They will conduct regular medical consultations and referral of critical cases to appropriate health facilities," said DOH Ilocos regional director Paula Paz Sydiongco in a statement on Tuesday.
Three of the seven DTTBs were deployed in Ilocos Norte province, two in Ilocos Sur, and two in La Union, based on the list of priority areas without medical doctors.
"They will fill the gap in communities that are lacking in health services," she said.
Sydiongco said through the deployment, they would be able to witness the realities of the healthcare system at the grassroots level.
"Through this, they will have deeper roots in public health perspective and hopefully, this will be the opportunity for them to become health advocates eventually benefiting the nation," she added.
Aside from providing medical services, the DTTBs will develop and implement advocacy projects and strategies and conduct monitoring and evaluation of health programs, she said.
Sydiongco said they will also conduct epidemiology investigations whenever necessary and perform medico-legal cases and conduct regular medical consultations and referral of serious cases to appropriate facilities.
The Doctors to the Barrios program was created in 1993 to address the lack of doctors serving in rural areas. There are currently 34 batches of doctors deployed in various geographically isolated and disadvantaged areas (GIDA) of the country from Batanes to Taw-Tawi provinces.
These are made up of 215 doctors serving under the program nationwide, and 15 doctors serving under the program deployed in the region.
Bonafide Filipino citizens, physically and mentally fit, of good moral character, and willing to work and be deployed in depressed and hard-to-reach areas for three years may apply for the program at the DOH.
Only 50 qualified applicants per year are accepted into the program. (PNA)