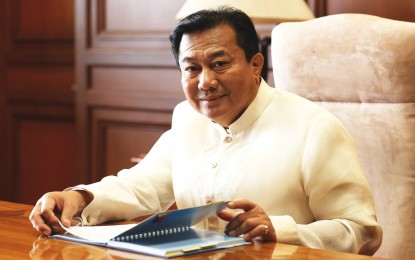 MANILA – Davao del Norte 1st District Rep. Pantaleon Alvarez said Tuesday he was pushing anew for the passage of the Civil Partnership Bill, which allows both same-sex and opposite-sex couples to enter into a civil partnership and enjoy equal rights and protection under the law.
"Yes, I refiled it. First time was in the 17th Congress, then 18th Congress, and I am refiling it again in the 19th Congress. I am a legislator. My job is to identify problems and provide solutions to the pain points of ordinary life that people deal with. In this case, there is definitely an absence of legal framework for those who do not fit traditional marriages. Let's think about them too. Huwag lang puro tayo (It should not be always about us)," he said in a statement.
Alvarez was referring to House Bill 6782, which he filed on Jan. 16.
Previous versions of the Civil Partnership Bill reached referral to the concerned committee for deliberations. None moved toward second and third readings.
Under the Family Code of the Philippines, only heterosexual couples can enter into a marriage, thus excluding members of the lesbian, gay, bisexual, and transgender (LGBT) community and their relationships.
Other issues that Civil Partnerships seek to address are the lack of legal rights, responsibilities, and protections for non-traditional unions.
"Imagine, you build a life together, and your partner isn't even an heir by default? Kapag mamatay sila, walang makukuha 'yung partner nila kahit sila 'yung nagtulungan (If they die, their partners would receive nothing despite being the ones committed to the relationship). For medical emergencies requiring life or death decisions, they're not even recognized as the partner, they are excluded. Hindi sila papapasukin, kasi hindi sila asawa (they are not allowed to enter because they are not considered as spouses) or family. How can that be right?" Alvarez said on the matter in pushing anew for the Civil Partnership Bill.
When asked about the importance of the bill, Alvarez cited a quote he once read as the best answer to the question.
"I read a quote before, from a movie, and it described the need to have a witness to our lives, and we promise to care about everything, the good, the bad, and even the boring things, all of it, every day. We say to our partner, your life will not go unnoticed because I will notice it, your life will not go un-witnessed because I will be your witness," he said.
"We allow traditional relationships to have that benefit, that opportunity, but how about others who can't get married? Why should we deprive them of the opportunity to be a witness to, and being witnessed in return, by their special someone?"
Alvarez noted that the proposed measure would strengthen traditional marriages, despite what critics of the bill are saying.
"Those who really want to get married are those who will get married. While those who don't want marriage, they need not force fit themselves into a marriage. They can opt for a Civil Partnership instead," he pointed out.
Nevertheless, he said he is willing to defend the merits of the proposed measure and asked critics to have an open mind so that "maybe we can find a common ground."
"This is my third term and third attempt for the Civil Partnership Bill. Who knows, it can be strike three, or it can be third time's the charm. I'm not new to this. Some battles you win, some you don't. But in either case, there is truth to the saying that politics is the art of the possible. Let's file this, get the word out, and let us see what happens," he said.
But to those who wanted a "fight," the veteran lawmaker said he is used to it and challenged critics to "bring it on."
"You wouldn't like it if outsiders dictated and intervened into your personal relationships, why do you keep dictating and intervening into the relationships of others? How about mind your own business? Live and let live," Alvarez said. (PNA)