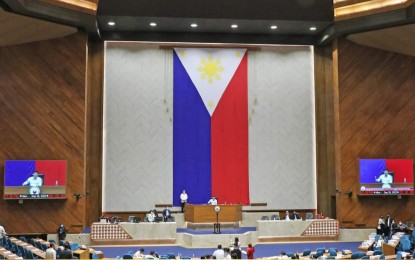 MANILA – The House of Representatives on Wednesday approved on third and final reading a bill requiring Bureau of Fire Protection (BFP) personnel to be certified medical first responders and emergency medical technicians (EMTs).
House Bill (HB) 6512, which was approved with 236 votes, would amend Section 4 of Republic Act 11589, otherwise known as the BFP Modernization Act.
Principally authored by Antipolo City Rep. Romeo Acop, the proposed measure requires the BFP regional director to designate in every fire station at least one uniformed employee, regardless of rank, to act as an emergency medical technician who will supervise fire officers in responding to medical emergencies.
House Speaker Ferdinand Martin Romualdez said this requirement under HB 6512 "will save lives."
"In emergency situations like a fire, an earthquake, or a road accident, BFP personnel are often, if not always, the first responders. They have to have adequate basic medical training to assist and save victims," he said. "This is the reason why fire departments in many countries, including our own BFP, are mandated to have emergency medical service (EMS) units."
Romualdez added that the type and quality of training EMS personnel receive "can spell life or death for persons needing immediate medical assistance."
He cited the recent case of a popular American football player who suffered cardiac arrest after tackling an opponent. First responders administered cardiopulmonary resuscitation (CPR) on him for 10 minutes before he was taken to a hospital.
Many American doctors said the CPR given by responding personnel saved the player's life, as well as his career.
"Ideally, that is the emergency response we want to achieve with the required certification and training for our BPF-EMS personnel under House Bill No. 6512," Romualdez said.
HB 6512 defines an emergency medical technician as "a trained and certified pre-hospital emergency care provider who is capable of performing extensive pre-hospital care, endotracheal intubations and cardiopulmonary resuscitation; administering medications orally and intravenously; and using automated external defibrillator and other complex emergency medical equipment."
The measure provides that upon appointment, a Fire Officer 1 "must undergo and complete the Fire Basic Recruit Course, which shall provide the fundamental knowledge and skills necessary to meet the minimum standards of fire personnel competence, including advanced first aid and emergency first response."
Upon completion of the course, the BFP shall give the officer certification as a medical first responder.
The BFP, in coordination with the Department of Health, Technical Education and Skills Development Authority, and the local Disaster Risk Reduction and Management Office, shall design and undertake a training program for EMTs.
BFP personnel designated as EMTs shall be certified as such, in addition to their training and certification as medical first responders.
Uniformed personnel who are already in the service as of Dec. 31, 2022 shall be given five years to comply with the requirement to obtain an EMT certification, with the BFP shouldering training expenses and fees.
Those who have been in service for more than 15 years as of the end of 2022 shall no longer be required to acquire certifications as medical first responders or EMTs. (PNA)