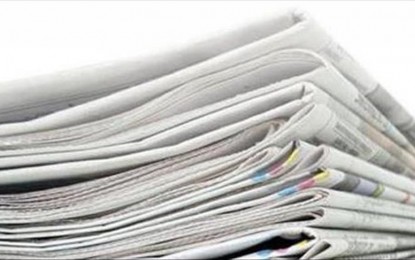 WASHINGTON – Half of all Americans believe news organizations intend to misinform, mislead or persuade the public, according to a poll released Wednesday.
Asked specifically if news outlets do not intend to mislead the public, only 25% of respondents said they agree, according to the Gallup and the Knight Foundation survey.
In all, 53% said they have very/somewhat unfavorable views of the news media. Just 26% said they have very or somewhat favorable views of the institution.
While opinions of the national news media were down across the political spectrum, they were acutely low among Fox News viewers, who are typically Republicans.
The poll comes amid widespread distrust of the US news media as several outlets, particularly national television networks, seek to boost viewership, often via hyper-partisan nightly series.
"This data offers further evidence that sustainable journalism begins and ends with trust," Knight Foundation President Alberto Ibarguen said in a statement. "We believe a citizenry that trusts the news is more informed, more engaged and better prepared to participate meaningfully in our democracy."
As opposed to national news organizations, most Americans continue to believe that local news outlets care about the effect that their reporting has on their audiences.
Sixty-five percent said local news organizations have the resources and opportunity to report the news accurately and fairly to the public.
More than half expressed confidence in the ability of local outlets to report what the public needs while 44% said local outlets do not intend to mislead. That is nearly double the amount who expressed the same of national news organizations.
About 5,600 respondents were included in the poll. (Anadolu)