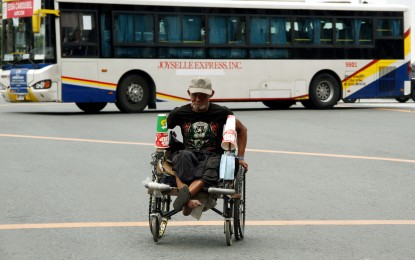 MANILA -- Senator Raffy Tulfo has filed a measure mandating the installation of audible traffic signs with push buttons for the benefit of persons with disabilities (PWDs), elderly and pregnant women.
Senate Bill 1884, or the "Accessible Pedestrian Signals Act," which Tulfo filed on Wednesday, seeks to affirm the rights of pregnant women, the elderly and PWDs to live a normal life through the implementation of policies that protect their wellbeing.
In filing the bill, the lawmaker noted that audible traffic signs emit a sound to indicate when it is safe for a pedestrian to cross the street, and is typically used in combination with visual signals such as a red hand or flashing "don't walk" signal.
"The installation of audible traffic signs will provide an additional layer of protection for visually impaired individuals, and to increase their independence when navigating busy intersections," Tulfo said in his explanatory note.
He added that his proposed measure "is a significant step towards creating a more inclusive and accessible transportation system" as it seeks to improve accessibility and help ensure that everyone, regardless of their ability, can safely cross the street.
SB 1884 mandates there shall be an "Audible Traffic Signal with Push Button" for PWDs, the elderly and pregnant women in all pedestrian crossings with traffic signals that regulate vehicular traffic.
The audible traffic signal shall offer information regarding the status and relative location of pedestrian light signals.
The control section directs a person crossing by concurrently generating sounds as in "back and forth call operation" from the two speakers placed at the two ends of the crosswalk during the time when crossing is allowed.
It also mandates the Land Transportation Office (LTO) to determine how much time is necessary to allow persons with disabilities, the elderly, and pregnant women to cross intersections safely upon activation of the push button.
Any person found guilty of tampering, or mishandling of the Audible Traffic Signal shall be fined PHP 2,000 for first offense; PHP 3,500 for second offense; and PHP20,000 fine and/or (1) day to thirty (30) days) of imprisonment. (PNA)