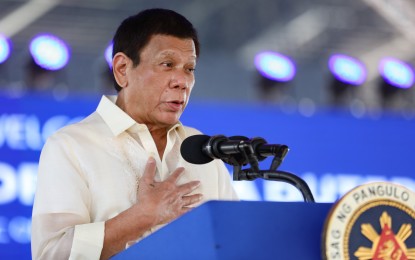 MANILA – House Senior Deputy Speaker and former President Gloria Macapagal-Arroyo led the filing of a resolution urging the House of Representatives to rally behind former President Rodrigo Duterte as the International Criminal Court (ICC) is set to reopen its investigation for alleged crimes against humanity.
In a resolution released to media on Thursday, Arroyo and 18 other lawmakers called on the lower chamber to declare "unequivocal defense" for Duterte amid the looming probe on his anti-illegal drug campaign during his presidency.
House Resolution 780 highlighted that Duterte's "remarkable accomplishments brought about by his relentless campaign against illegal drugs, insurgency, separatism and terrorism, corruption in government and criminality" made the life of Filipinos "better, comfortable and peaceful."
The resolution cited the need for immediate action to curb the country's serious and rampant illegal drug situation at the time when Duterte took office, as the drug problem was becoming an "existential threat to the country's social fabric."
"The country's peace and order situation considerably improved due to the Duterte administration's holistic and whole nation approach in ending insurgency and curbing the drug menace in the country that resulted [in] unprecedented growth in exports and investment," the resolution read.
Underscoring the Philippines' "functioning and independent" judicial system, the resolution quoted Justice Secretary Jesus Crispin Remulla who called the ICC's intent to resume its investigation against Duterte's anti-drug campaign as "insulting" and "totally unacceptable."
Remulla has reiterated the government's position that the ICC can rightfully conduct proceedings only in states without a functioning government and justice system.
"We are doing what it takes to fix the system. We have a functional judicial system and I don't see where they can come in unless they want to take over our legal system and take over our country. I don't see that happening," Remulla said in a press briefing last week.
He said the "unreasonable" decision is not welcome in the Philippines and the Department of Justice "will not stand for any of these antics that tend to question our sovereignty and our status as a sovereign country."
Other authors of the bill were Representatives Carmelo Lazatin Jr., Aurelio Gonzales, Anna York Bondoc-Sagum, Jose Alvarez, Mary Mitzi Cajayon-Uy, Richard Gomez, Wilton Kho, Loreto Amante, Edward Hagedorn, Edwin Olivarez, Eric Martinez, Eduardo Rama Jr., Dale Corvera, Zaldy Villa, Ma. Rene Ann Lourdes Matibag, Mohamad Khalid Dimaporo, Johnny Pimentel and Marilyn Primicias-Agabas. (PNA)