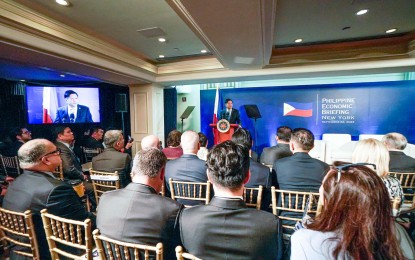 MANILA – The foreign trips of President Ferdinand R. Marcos Jr. have generated a total of 116 investment projects worth PHP3.48 trillion (USD62.926 billion), Malacañang announced Friday.
The figures were disclosed during Marcos' meeting with officials of the Department of Trade and Industry (DTI) and the Office of the Presidential Assistant on Investment and Economic Affairs (OPAIEA) at Malacañan Palace in Manila on Thursday to discuss the investment pledges his administration was able to secure during his overseas trips.
During the meeting, Marcos, the DTI, and the OPAIEA talked about the details of his foreign travels intended to attract more investments, Presidential Communications Office (PCO) Secretary Cheloy Garafil said in a statement.
Citing DTI Secretary Alfredo Pascual's report, Garafil said Marcos' visit to China in January this year yielded the highest investments amounting to USD24.239 billion.
Marcos' recent trip to Japan, she noted, has generated investment leads worth USD13 billion, followed by Indonesia (USD8.48 billion), Singapore (USD6.54 billion), Thailand (USD4.62 billion), the United States (USD3.87 billion), and Belgium (USD2.20 billion).
"Of the commitments, USD4.349 billion or PHP239 billion have materialized with the companies in various stages of implementation of their projects in the country," Garafil said. "Projects worth USD29.712 billion or PHP1.7 trillion have existing Memorandum of Understanding (MOU) or Letters of Intent (LOI) while confirmed projects worth USD28.863 billion or PHP1.5 trillion are on the planning stage."
Marcos expressed elation that investment pledges made in his foreign trips are starting to bear fruit, noting that the inauguration of some projects may commence "in the next couple of weeks."
"We're starting to go into the details of all of those MOUs and LOIs that people have seen us witnessing, mga pirma-pirma and exchanges sa (the signing of agreements and exchanges in) different countries," Marcos said after the meeting, as quoted by the PCO. "I can already report that some of the MOUs that we signed in Indonesia and in Singapore, mayroon nang resulta (already have results). And in fact, I think in the next couple of weeks, we will be starting to inaugurate some of these projects already."
After Marcos' five-day working visit to Japan, his latest foreign trip, he said it is time to consolidate all of the investment pledges and determine what needs to be done.
Marcos said several issues besetting the business sector must be resolved, particularly the rules and regulations that are "not investor-friendly."
"And the next item is going to be, we will have to converge all of the different agencies of government so that we are working off the same plan. 'Yun ang gagawin natin (That is what we will do) because we have to strike while the iron is hot," he said. "We're moving very quickly to, as I say, make sure that while the Philippines is still top of mind of these investors that we immediately explore those opportunities and take advantage of the contacts that we made during these trips."
The OPAIEA, headed by Frederick Go, acts as a presidential delivery unit that pursues the President's priority investment and economic agenda, ensuring the timely delivery of investment projects, trade agreements, and pledges, among others.
In January, Socioeconomic Planning Secretary Arsenio Balisacan said the investment pledges during Marcos' foreign travels would benefit Filipinos even beyond the President's term, as these would help create jobs and improve productivity. (PNA)