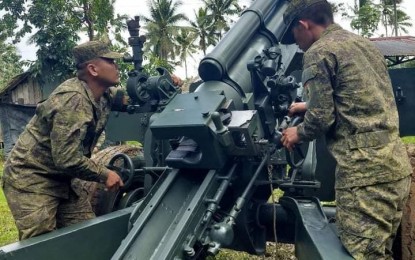 MANILA – The Philippine Army (PA) on Friday announced that 13 artillery platoons have been certified and declared as highly capable for howitzer operations.
PA spokesperson, Col. Xerxes Trinidad, said this was made possible by the Army Artillery Regiment (AAR)'s ongoing certification program.
These 13 artillery platoons are based in the Zamboanga Peninsula and the provinces of Basilan, Sulu, Tawi-Tawi, Lanao del Norte and Lanao del Sur.
"A total of 13 firing platoons from the 1st Field Artillery Battalion and the 8th Field Artillery Battalion have passed the certification standards and have been declared highly-capable howitzer platoons for performing artillery operations as of February 15, 2023, according to the regiment. The certification is a vital step towards enhancing the combat readiness of artillery units, ensuring that they are highly proficient in performing their duties," Trinidad said in a statement.
He added the AAR certification committees are conducting on-site proficiency tests for artillery units in these provinces.
"The certification process is being conducted in two phases with the first phase focusing on evaluating the individual skills of personnel and the second phase on evaluating the collective performance of personnel as a firing section and firing platoon," Trinidad said.
Honoring Hunters-ROTC Guerrillas
Meanwhile, the PA unveiled a monument in honor of the Hunters-Reserve Officers Training Corps (ROTC) Guerrillas during the 78th-anniversary commemoration of the retaking of Fort Bonifacio (then called Fort McKinley) on Thursday.
The bronze sculpture of a Hunters-ROTC rifleman depicts the Philippine Military Academy and ROTC cadets who bravely fought and defended the country from foreign invaders.
The sculpture stands on a defensive stance atop a 1.8-meter-high granite pedestal.
The sculpture's pedestal has a dedication for the Hunters-ROTC Guerrillas who liberated the then-Fort McKinley from Japanese Imperial forces.
Trinidad said the sculpture features the original logo of the Hunters-ROTC Guerrillas who came from the cadet corps of the Philippine Military Academy and the Reserve Officers Training Corps of the University of the Philippines, Ateneo de Manila, La Salle College, Far Eastern University, Jose Rizal College, Mapua Institute of Technology, Letran College, Philippine School of Arts and Trade, and San Beda College.
These young men formed the Hunters-ROTC Guerrillas, banding together to repel Japanese invaders during the Battle of Nichols Airfield and Fort McKinley in February 1945. (PNA)