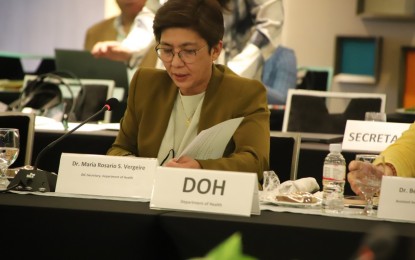 MANILA – The Department of Health (DOH) on Friday emphasized the importance of a holistic approach and interagency collaboration in the elimination of tuberculosis (TB) nationwide.
"Tuberculosis is not only an issue for the Department of Health, but an issue that involves different sectors of our government," DOH officer-in-charge Undersecretary Maria Rosario Vergeire said during the 7th National Coordinating Committee for Tuberculosis 2023.
There is a need to generate political support, elevate advocacy efforts and reinforce commitments to TB elimination in the country, she added.
The World Health Organization defined TB as a curable and preventable disease which is caused by a bacteria which affects the lungs.
Latest WHO data said a total of 1.6 million people died from TB in 2021, including 187,000 people with HIV.
It is the 13th leading cause of death and the second leading infectious killer after Covid-19 worldwide.
In the country, the DOH reported 311,000 tuberculosis cases in 2021 compared to 263,000 cases in 2020 based on the national TB registry.
The agency has boosted its active case finding initiatives, organizing community outreach activities and setting up local TB task forces for community surveillance in the recent years.
From 2017 to 2019, the DOH reached on average 93 percent of its annual target of notified cases.
However, the Covid-19 quarantine has restricted such interventions to find, test, treat and prevent TB cases in hospitals, health facilities and communities.
Despite the challenges posed by the Covid-19 pandemic in the continuum of healthcare, an 18-percent increase in tuberculosis treatment rate among diagnosed Filipinos in 2021 compared to 2020 was observed.
"We need to implement collective actions rooted from our goal in unison with the Universal Healthcare Law," Vergeire said.
"Makakakita lamang tayo ng improvement kung magkakaroon ng consistency sa pagpapatupad ng ating mga plano kontra-TB (We can only see improvement if we have consistency in the implementation of our plans against TB)," she added.
Vergeire was joined by DOH Assistant Secretary Beverly Lorraine Ho and officials from the Disease Prevention and Control Bureau and Health Promotion Bureau.
The event served as a national multisectoral table for the global End-TB campaign.
It aims to reengage member agencies and stakeholders in efforts to implement their roles and mandates and achieve their objectives as members of the national coordinating committee (NCC).
The discussion included the Philippine Acceleration Action Plan for TB which will now serve as the foundational framework for NCC member agencies and stakeholders to align their existing mandates, policies, and work programs with the overarching objective of TB elimination. (PNA)