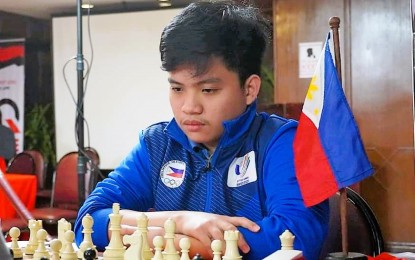 MANILA – Filipino International Master Daniel Quizon defeated his older compatriot IM Rolando Nolte in 57 moves of a King's Indian Defense to win the AQ Prime ASEAN Chess Championship at the Great Eastern Hotel in Quezon City on Saturday night.
The victory was sweeter as the 19-year-old Quizon also secured the second of the three norms required for a Grandmaster title.
A member of the Dasmariñas Chess Academy in Cavite, Quizon finished the tournament with 7.5 points (6 wins, 2 losses and 3 draws) to claim the USD2,000 champion's purse.
"I will always be grateful to those who supported me towards my achievement of getting my second of three required GM norms," said Quizon, who earned his first GM norm at the 2018 Eastern Asia Juniors Chess Championship in South Korea.
He acknowledged national coach FM Roel Abelgas as one of those instrumental for his success.
Meanwhile, IM Paulo Bersamina drew with GM Nguyen Van Huy of Vietnam after 30 moves of a Modern Benoni Defense and finished second with 7.0 points. He received USD1,200.
Top seed GM Susanto Megaranto of Indonesia, a gold medalist at the 2019 Manila Southeast Games, also split the point with fellowman IM Ervan Mohamad after 35 moves of a Petroff's Defense to settle for third place with 6.5 points.
GM Darwin Laylo, the reigning national champion, conquered GM John Paul Gomez in 33 moves of a Queen's Indian Defense to share fourth place with Mohamad with 6.0 points.
Gomez was fifth with 5.5 points.
IM Yeoh Li Tian of Malaysia, CM Dau Khuong Duy and GM Nguyen Van Huy of Vietnam, and IM Yoseph Theolifus Taher of Indonesia tied for sixth with identical 5.0 points, followed by FM Prin Laohawirapap of Thailand (4.0) and the 50-year-old Nolte (3.5).
"I would like to extend my congratulations to IM Daniel Quizon and IM Paulo Bersamina. They really proved that Filipinos are at par with the best in the world. And this also proves that our programs in the NCFP (National Chess Federation of the Philippines) are on the right track," said NCFP president Prospero Pichay Jr. (PNA)