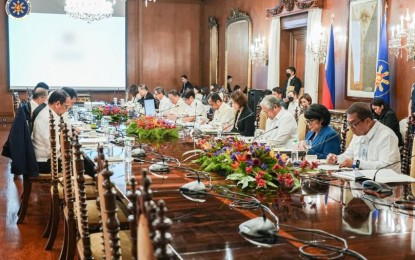 MANILA – National Economic and Development Authority (NEDA) Secretary Arsenio Balisacan believes it is "high time" to develop the country's innovation ecosystem.
Balisacan made this remark following the National Innovation Council's (NIC) first meeting under the Marcos administration on Tuesday.
It is also the NIC's fourth meeting since its creation in 2019.
During the meeting, he said the NIC raised the need to establish an innovation ecosystem that will encourage and promote innovation as part of the country's economic culture.
"Ang challenge natin (Our challenge) as a country is we have not paid much attention to innovation," he said in a Palace press briefing.
"Ang gusto natin mangyari mayroon tayong (What we want to happen is that we have an) ecosystem that encourages, promotes, even triggers by funding them, helping them locate for their funds, access to credit para yung good ideas nila (so that their good ideas) can be supported," he added.
He lamented that the Philippines continues to lag behind its foreign neighbors in terms of innovation.
"Titignan nalang natin yung investment natin sa (If we just look at our investment on) R&D [research and development] talagang (it's really) almost at the bottom when you see what our neighbors are doing so it's really high time we develop this ecosystem," he said.
Citing South Korea as an example, Balisacan said the nation is so high in innovation that even their culture has become a global phenomenon.
"If you look at economic nations, ang pinaka (the most) enduring source ng productivity growth, ng growth ng ekonomiya (of economic growth) is improvements in processes, products, services. 'Yun ay lahat manggagaling 'yun sa (All of that will come from) innovation," he added.
6 executive members
Meanwhile, Balisacan also announced the NIC approved selection of six executive members of the NIC for 2023-2026.
"I am pleased to announce that the council…has approved six executive members for 2023-2026. The remaining slot to be filled by a climate change expert. These members come from the ranks of businesses, entrepreneurs, academe, and the scientific community," he said.
Balisacan did not name the said NIC members.
Likewise, he said the NIC also presented salient features of the RA No. 11293 or the "Philippine Innovation Act" and updates on the formulation of the National Innovation Agenda and Strategy Document (NIASD).
The NIASD outlines the country's 10-year vision and long-term goals for innovation and serves a detailed roadmap towards improving innovation governance.
It also ties closely with the outcomes and strategies laid out in Chapter 8 of the Philippine Development Plan (PDP) 2023-2028, on Advancing Research and Development, Technology and Innovation.
"Together, these two documents aim at enabling a strong innovation governance to drive the innovation ecosystem towards our national innovation priority areas and long-term innovation goals of a smart and innovative Philippines that is productive, resilient and sustainable, as well as inclusive," Balisacan said.
Along with the NIASD, Balisacan said the establishment of the Innovation Fund, a revolving fund that aims to strengthen entrepreneurship and enterprises engaged in developing innovative solutions, is also one of the NIC's other major outputs.
To date, the NIC has approved 18 project proposals amounting to PHP115 million under the Innovation Grants—majority of which sought to address the pre-commercialization and commercialization requirements of innovative products or services, the enhancement of innovation facilities and services, and the conduct of capacity-building activities.
The NIC is a 25-member body tasked to develop the country's innovation goals, priorities and long-term national strategies.
Marcos serves as the NIC chairperson together with Balisacan as vice chairperson.
The rest of the members are composed of 16 ex-officio members and seven executive members from the private sector. (PNA)