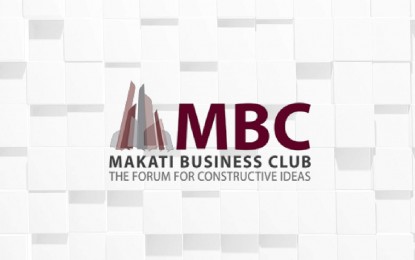 MANILA – The Makati Business Club (MBC) supports the Marcos administration's establishment of a Water Resources Management Office (WRMO) and the concurrence of the Regional Comprehensive Economic Partnership (RCEP).
In statements released on Tuesday, the MBC said the creation of the WRMO will help the government to achieve the Sustainable Development Goal (SDG) of providing better access to clean water and sanitation for all Filipinos.
The MBC said the status quo has hampered in attracting investments in the water sector because of too much bureaucracy.
It said there are 30 water-related agencies at present which processes permits that can be streamlined by establishing the WRMO.
"We believe the WRMO will help address urgent issues even as we encourage Congress to pass a law creating an even more effective Department of Water," the business group said.
Citing data from the National Economic and Development Authority (NEDA), MBC said that in 2021, 45.2 percent of the population does not have access to safe water supply. It means they source their water from springs, rivers, streams, wells, peddlers and other sources.
"Of the 54.8 percent who had access to safe water supply, only 15 percent to a piped distribution network, and 11.2 percent relied on a communal faucet system," the MBC statement read.
It underscored that the creation of the WRMO and a Department of Water can emulate the benefits of the 1995 Water Crisis Act, which addressed the water crisis at that time by awarding Metro Manila concession agreements to the private sector.
Meanwhile, the MBC called on the Senate to concur the RCEP.
"Makati Business Club respectfully urges the members of the Senate to ratify the Regional Comprehensive Economic Partnership they are currently deliberating to help businesses expand abroad, strengthening the economy and accelerating job creation," MBC said in a separate statement.
It said that making RCEP enter into force in the Philippines will be essential as the trade bloc has a huge market of 2.1 billion and with economies sharing 30 percent of the world's gross domestic product.
"While RCEP would help us enter foreign markets, it would also expose our industries to more competition at home. We recognize that there are valid concerns about this. However, we believe that adequate safeguards have been included. We also believe competition will result in better local players and better products and services for Filipinos," the organization added.
The MBC said with the push of the Marcos administration to ratify the RCEP, the Senate is also encouraged "to give it positive consideration". (PNA)