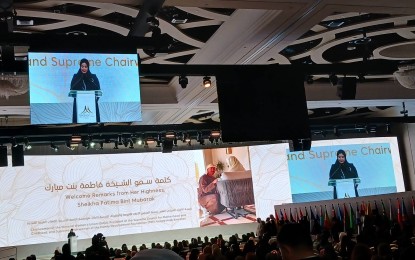 ABU DHABI, United Arab Emirates – The two-day Global Summit of Women in this capital city of United Arab Emirates (UAE) is focused on issues besetting females and how to address them.
As in other women-centered meets, the "battle of the sexes" always crop up.
Hassana Nourane, Cameroon parliament member who also runs a hair care firm and hotel, chose to give tribute to males supporting females.
"There are men in this summit. Cheers to men supporting women. I became who I am today because there are men who helped me," she said during her speech at St. Regis Saadiyat Island Resort ballroom here on Tuesday.
"Cherry Mae," one of several Filipino workers at the summit venue, agreed with Nourane.
"My male co-workers here respect us women. I work here part time when there are events and they need extra help. I always come back because the management is easy to work with," she said in Filipino in an interview with the Philippine News Agency.
Indonesian "Mindy" shared the same observation.
"Oh, very nice here. No problem," the 27-year-old said.
Her Highness Sheikha Shamma bint Sultan bin Khalifa Al Nahyan, president and chief executive officer of the UAE Independent Climate Change Accelerators, delivered the keynote speech on behalf of Her Highness Sheikha Fatima bint Mubarak, chair of the General Women's Union.
"Abu Dhabi will remain proud of hosting the summit with female leaders instrumental in peace-building, social integration and prosperity," Sheikha Fatima was quoted.
His Excellency Dr. Ali Rashid Al Nuaimi, Higher Committee chair of the summit, said Sheikha Fatima inspires them "to make women happy."
"Men are always mentioned in successes while women are mentioned in failures, which is unacceptable," he said in his speech.
"We believe that investing in women to achieve social integration is the real investment to achieve positive results."
The Global Gender Gap Report issued by the World Economic Forum for 2021 and 2022, and the Global Competitiveness Report issued by the International Institute for Management Development in Switzerland, ranked the UAE No. 1 globally for female representation in parliament in 2020 and 2021, according to a January report of WAM, the Emirates news agency.
"Women comprise 50 percent of the UAE Federal National Council and 27.5 percent of the UAE cabinet. UAE's strategic plans place high priority on ensuring the equal participation of women in the nation's development process," read the WAM report.
Mona Ghanem Al-Marri, vice president of the UAE Gender Balance Council, told WAM the emirate has become a global leader in gender balance because of the confidence the country's leaders have shown in the abilities and potential of women.

"The leadership's vision for the empowerment of women ensures that they are considered equal participants and major contributors to sustainable development efforts in the nation," he said in a previous interview.
Day Two of the summit on Wednesday will discuss women in politics, media and creative industry, fine arts, culture, sports and tourism. (PNA)