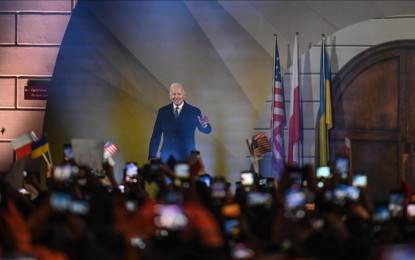 WARSAW – President Joe Biden reiterated US support for Ukraine and the need for unity within the NATO alliance in a speech Tuesday in the Polish capital Warsaw.
"A year after the outbreak of war, (Russian President Vladimir) Putin no longer doubts the strength of our coalition, but he still doubts our beliefs, our support for Ukraine, the unity of Ukraine. NATO will not be divided. We will not be divided. The world's democracies will stand guard over freedom today, tomorrow and forever," he said.
Biden, who was in Warsaw a day after his surprise visit to Ukraine's capital Kyiv, said: "Let every NATO member know and let Russia know that an attack on one NATO member is an attack on all members. It's a sacred oath. The US will defend every inch of NATO territory."
"Putin was wrong. The Ukrainian nation is too strong. Putin did not expect the world's democracies to strengthen, not weaken. In times of such a trial, it is important who we stand for. Poland knows it. You know perfectly well what solidarity is.
"The autocrat's appetite cannot be satisfied. It must be resisted. The autocrat understands only one word: No....Brutality will never change the desire to be free. Ukraine will never be a victory for Russia. Never," he added.
Biden also spoke of making Russia pay for any crimes committed.
"Together we will make sure that Russia pays for its crimes, that it will never invade Poland or any other country," he said.
"Crimes against humanity, without remorse, the use of violence and rape as a weapon of war, the bombing of schools and railway stations -- no one can take their eyes off these atrocities. But the response of the Ukrainians was incredible. Ukraine is still free and independent. From Kherson to Kharkov, Ukrainians are regaining their land. The blue and yellow flag flies on."
Joint efforts to support Ukraine, impose costs on Russia and strengthen NATO were the main topics of the talks between the presidents of the US and Poland in Warsaw, according to a statement released Tuesday by the White House.
Biden also expressed his appreciation for Poland's support for Ukrainian refugees.
"President Biden praised the generous support of Poles in hosting over 1.5 million Ukrainian refugees in their communities," said a statement from the meeting between President Andrzej Duda and Biden at the Presidential Palace.
The discussions also included cooperation in the field of energy, including nuclear energy, bilateral defense relations and "the importance of democratic values on which the transatlantic alliance is based."
Duda thanked Biden for his visit to Kyiv and Warsaw.
"Poland is safe thanks to the presence of US and NATO troops," he said.
Duda stressed that the arrival of Biden in Ukraine and Poland was a clear sign of security and a signal of the US responsibility for the security of the world and Europe.
"America is able to maintain the world order," he said. (Anadolu)