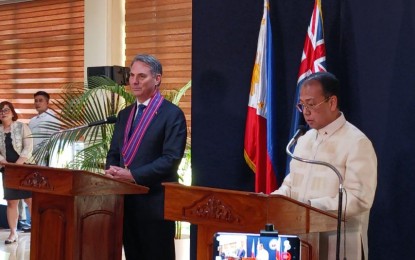 MANILA – The visit of Australian Deputy Prime Minister and Defense Minister Richard Marles to the Philippines highlights the two nations' commitment to enhancing their defense relations.
"We welcome the visit of Australian Deputy Prime Minister and Minister of Defense during his official visit here in the Philippines. This visit has demonstrated the steadfast commitment of the Australian and the Philippine government to further deepen our bilateral defense relations between our nations," said Undersecretary Carlito Galvez Jr., Department of National Defense (DND) officer-in-charge, during Wednesday's joint press conference in Camp Aguinaldo, Quezon City.
He also appreciated the fact that Australia's relationship with southeast Asian nations is mutual and founded on solid ground.
"As Deputy Prime Minister Marles said, Australia's relationship across the region are founded on history, personal connections and shared interest," Galvez said.
The DND chief said both the Philippines and Australia are looking forward to elevating their partnership as agreed by the leaders of the two nations in November.
"During our meeting, the Deputy Prime Minister and Minister of Defense and I discussed the defense cooperation between our countries. In particular we recall the successful conduct of last year's bilateral dialogue platforms and various engagements across several areas of collaboration," he added.
While the Philippines and Australia have agreed to explore other areas of cooperation, Galvez said counter-terrorism and maritime security remain the "core pillars" of the two nations' bilateral defense relations.
"We reaffirm the need to continue working together towards a common goal of maintaining a free, open and secure Indo-Pacific Region. The Philippines also reiterated its appreciation to Australia for its consistent support to the 2016 Arbitral Tribunal Award and at the same time its continued support during the Covid (-19) pandemic," he added.
During that time, the DND chief recounted that the Australian government donated more than 8 million doses of the Covid-19 vaccine.
Also, Galvez said both the Philippines and Australia believed in the importance of collaboration of like-minded security partners to achieve collective security.
"In the region where nations could freely exercise their sovereign rights while pursuing stability and prosperity in the Asia Pacific and Indo-Pacific region. Building on the consensus between our defense departments to regularly meet through the establishment of a Defense Ministerial Meeting or (DMM), I look forward to the next meeting with Deputy Prime Minister Marles in Australia, a homecoming for me considering I really love Australia with my family, and explore joint patrols and joint patrols and joint trainings with friends and allied countries," he added,
Meanwhile, Marles said there is a "sense of friendship" in ties between Manila and Canberra.
"There are deep connections over a long period of time between Australia and the Philippines, deep people and people connections. Today the Filipinos community numbers 400,000 which is one of the largest in our country and what that means is that there are so many people across both of our countries who have deep connections with each other in our respective countries, and those connections underpin a sense of trust, a sense of affection," he added.
He also said the two nations have a strong relationship that could be taken to a higher level.
"Later this year we look forward to signing the strategic partnership between our two countries which comes on top of the first meeting between Prime Minister (Anthony) Albenese and President (Ferdinand) R. Marcos Jr. in November last year," he added. (PNA)