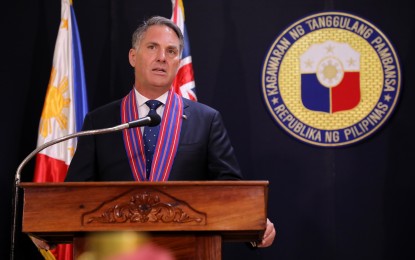 MANILA – Australian Deputy Prime Minister and Defense Minister Richard Marles said Wednesday they are looking at ways to conduct joint patrols in the South China Sea and more military exercises with the Philippines.
"(We are) looking at ways which we can pursue joint patrols together in the South China Sea, and looking at ways in which we can do more exercises together," Marles said during the joint conference held at the Department of National Defense headquarters in Camp Aguinaldo, Quezon City shortly after his meeting with DND officer-in-charge Senior Undersecretary Carlito Galvez Jr.
No other details were given on how this proposal will be carried out.
In line with this development, Marles said Australia is sending one of its largest contingents ever to this year's iteration of "Exercise Balikatan," which will take place in April.
"And we look forward to the Philippines, for the first time, sending observers to Exercise Talisman Sabre in Australia in August," he added.
Marles said all of these engagements speak of deepening relations between the two nations, which are based on a "very strong foundation."
"All of these speak to a deepening relationship, a relationship built on a very strong foundation both at the level of government and at the level of people. And we're really excited and filled with optimism about where this relationship goes," he added.
Marles also said the Philippines would be "very central" to their Indo-Pacific Endeavor, which is Australia's naval regional flagship engagement to be held later this year.
"We look forward to a visit here as part of the Indo-Pacific Endeavor in the coming months," he added.
Marles also said Australia and the Philippines have a greater strategic alignment than they had at any moment in their respective histories.
"Both countries are allies of the United States, both countries have China as our largest trading partner. Both the Philippines and Australia are completely committed to a global rules-based order," he added.
This affirmation, Marles said, is "deeply connected to the two nations' respective national interests that the rules of the road as they apply to a body of water such as the South China Sea, the UN (United Nations) Convention of the Law of the Sea, the freedom of navigation (and) the freedom of overflight."
"All of these principles are completely central to our national interests, and to our collective security," he added. (PNA)