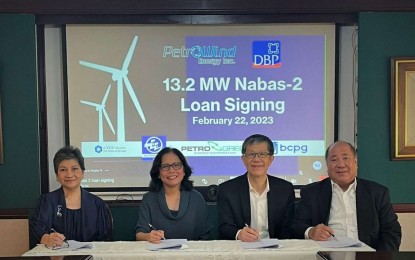 MANILA – The 13.2-megawatt Nabas-2 wind power project in Aklan province has secured financing from the state-run Development Bank of the Philippines (DBP).
This, as listed energy firm PetroWind Energy, Inc. (PWEI) disclosed to the Philippine Stock Exchange (PSE) Thursday that it entered into a term loan agreement worth PHP1.8 billion with DBP to fund the Nabas-2 project.
The PWEI said the loan agreement, which was inked on Feb. 22, 2023, has a tenor of 15 years.
It added DBP's funding will be used for major infrastructure build-up, including the supply and installation of wind turbines, construction of a temporary jetty, internal access roads and new substation and switching station.
"PWEI (has been) DBP's partner since 2013 and we are grateful that we have their support again for Nabas-2. Our partnership with DBP enabled us to successfully build our wind and solar power projects, which are now generating clean and indigenous power," PWEI president Milagros Reyes said.
Since June 2015, the 36 MW Nabas-1 wind power project has been supplying clean power to the Visayas grid.
"The success of our collaboration with DBP proves that public-private partnership built on the commitment to development, ushers in long-term benefits to the environment, communities and the country," Reyes added.
President Ferdinand R. Marcos Jr., in his first State of the Nation Address, underscored the need to build new power plants and exploit the indigenous energy resources for Filipinos to have access to clean and affordable power. (PNA)