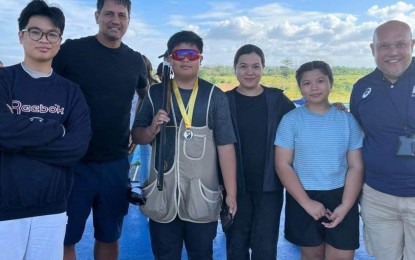 MANILA – Antonio Joseph Javines of Ateneo de Manila University is slowly but surely making a name for himself in shooting trap and skeet clay category.
The 13-year-old Javines captured the National Juniors Trap and Skeet title after finishing fifth overall in the recently-concluded National Open Championship Trap and Skeet competition held at the PSC-PNSA Clay Target Range in Muntinlupa City on Feb. 17.
Javines, also known as AJ in the shooting community, scored 14-18-19-18-15 for a total of 84 shots out of 125 target.
He finished fifth behind Philippine National Shooting member Hagen Alexander Topacio, Eric Ang, Itos Carag and Jethro Dionisio in trap men's category.

Topacio had 23-22-23-24-23 for total of 115, followed by Ang with 23-21-22-21-19 for 106 and Carag with 21-21-22-19-20 for 103.

In finishing fifth, Javines also clinched the National Junior plum and a spot in Philippine National Training Team.
"Ever since I took up the sport, it is really my dream to become a national player," said Javines, who even beat actor-sportsman Richard Gomez who finished ninth overall.
Javines attributed his success to his long and intense training and the support of his proud parents, Engineer Teddy and Michelle Javines.
Valerie Levanza and Joelle Panganiban finished 1-2 in the Ladies Trap category.
Philippine Sports Commission (PSC) chairman Richard Bachmann and Philippine National Shooting Association (PNSA) president Rep. Faustino Michael Dy III awarded the medals to the winners.
"He is now the future of Philippine shooting. He is one of a kind at his age and dedication. We have another shooting champion in the making," said Bachmann after watching Javines' performance.
"It's very impressive to see a 13-year-old making his presence felt in this very demanding sport of Olympic trap," said national team coach Fernando Mercado, who is personally training Javines since last year.
Mercado noted that Javines is the youngest player who finished in the Top 10, which also included seasoned campaigners JM Ancheta, Charles Nalupta, Edsel Gino, Gomez and Leonardo Gino.
Mercado has been training AJ with a portable clay thrower at a make-shift range in San Fernando Pampanga.
Javines and Mercado are currently in Kuwait to train in International Shooting Sports Federation (ISSF) Olympic Trap Training Camp.
He will train along with other top junior shooters from all over the world as part of his preparations to represent the country in the International Junior Shooting Competition in South Korea in June. (PNA)