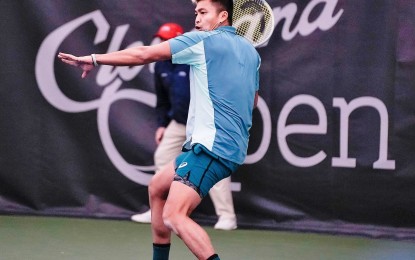 MANILA – Filipino Ruben Gonzales and American Reese Stalder took an early exit at the Association of Tennis Professionals (ATP) Challenger in Monterrey, Mexico over the weekend.
The two fought back in the second set but were overpowered in the tie-breaker by German Maximillian Marterer and Frenchman Benoit Paire, who escaped with a 6-4, 3-6, 10-4 win in the round-of-16 at Club Sonoma hard court.
Last week, Gonzales reached a career-best doubles ranking of No. 120 following a runner-up finish at the ATP Challenger in Manama, Bahrain.
Gonzales and Brazilian partner Fernando Romboli lost to third seeds Patrik Niklas Salminen of Finland and Bart Stevens of the Netherlands, 3-6, 4-6.
On their way to the finals, Gonzales and Romboli defeated Toshihide Matsui and Kaito Uesugi of Japan, 7-6 (3), 6-7 (7), 10-6; Andrea Arnaboldi of Italy and Alexandre Muller of France, 7-6 (4), 6-2; and top seeds Roman Jebavy of Czech Republic and Jonny O'Mara of United Kingdom, 7-5, 4-6, 10-5.
Playing as the No. 2 seeds at the Tenerife Challenger 3 in Spain last week, Gonzales and Romboli were eliminated in the semifinals by No. 4 seeds Andrew Harris of Australia and Christian Harrison of the United States, 2-6, 4-6.
Gonzales and Stalder reached the final of the Cleveland Open last January, losing to American Robert Galloway and Mexican Hach Verdugo, 3-6, 7-5, 10-6.
Gonzales, who pocketed three ATP Challenger titles last year, will be part of the Philippine team in the Cambodia Southeast Asian (SEA) Games on May 5 to 17.
Born in Chicago, Illinois and raised in Indiana, Gonzales became a member of the national team in 2010.
Aside from the SEA Games where he consistently makes the podium, he has competed in the Davis Cup and Asian Games.
He took the doubles gold with fellow Fil-Am Treat Huey in the Vietnam SEA Games last year.
Gonzales also bagged the doubles silver medal with Huey (2019, Manila), Francis Casey Alcantara (2017, Malaysia), and Jeson Patrombon (2015, Singapore).

Meanwhile, Huey and Mexican Miguel Angel Reyes-Varela lost to Americans Nathaniel Lammons and Jackson Withrow in the quarterfinal round of the Dallas Open.
Alcantara, who hails from Cagayan de Oro City, is also gearing up for the SEA Games.
He played three tournaments in the International Tennis Federation World Tennis Tour last month.
He teamed up with Ray Ho of Chinese Taipei at the M15 Jakarta in Indonesia, reaching the semifinal round where they fell to Japanese duo Keisuke Saitoh and Naoki Tajima, 4-6, 2-6.

In Thailand, Alcantara and Japanese partner Hiroki Moriya lost to Koreans Nam Ji-sung and Song Min-kyu, 4-6, 6-7 (0) in the opening round of the Nothaburi Challenger 50 in January.
A week earlier, Alcantara and Yu Hsiou Hu of Chinese Taipei lost to Marek Gengel and Adam Pavlasek of Czech Republic, 7-5, 2-6, 5-10, in the Nonthaburi Challenger 75. (PNA)