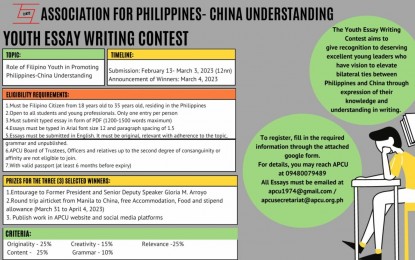 MANILA – The Association for Philippines-China Understanding (APCU) has launched an essay writing contest for the Filipino youth to further elevate the bilateral ties between the Philippines and China.
The theme of the essay is focused on the role of Filipino Youth in promoting Philippines-China understanding and is offered to "deserving, excellent young leaders who have the vision to elevate and deepen the bilateral ties" between the two countries.
Participants must be Filipino citizens under 18 years old to 35 years old, residing in the Philippines.
The essay contest is open to all students and young professionals. Only one entry is allowed per person.
Entries must have around 1,200 to 1,500 words maximum and must be submitted in English.
The typed essay must be submitted in PDF and must be typed in Arial font size 12 with a paragraph spacing of 1.5.
Essays must be original, relevant, with adherence to the topic, have good grammar and unpublished.
APCU Board of Trustees, officers and relatives up to the second degree of consanguinity or affinity are not eligible to join the essay writing contest.
The submission period is from Feb. 13 to March 3, 2023 at 12:00 noon.
Winners will be announced on March 4, 2023.
The prizes for the 11 selected winners include a round trip air ticket from Manila to China, as well as free accommodation, food and stipend allowance for the period of March 31 to April 4, 2023.
The winners will be part of the entourage of former President Gloria Macapagal Arroyo's trip to some provinces of China.
Their essays will also be published on the APCU website and social media platforms.
The criteria for judging are as follows: 25 percent for originality; 15 percent for creativity; 25 percent for content; 10 percent for grammar; and 25 percent for relevance.
The panel of judges include Prof. Anna Malindog-Uy, Mr. Herman Tiu Laurel, Mr. Wilson Lee Flores, Lt. Col. Bernie Miaque, and Mr. Adolfo Quizon Paglinawan.
All essays must be emailed to [email protected] or [email protected]
You can also check this link for more information: https://docs.google.com/forms/d/e/1FAIpQLSe018LzlAQYq66MMz0QI-pF7TYIn4zom8WVXxHYKVFwbmbToQ/viewform
For details, you may reach APCU at 09480079489. (PNA)