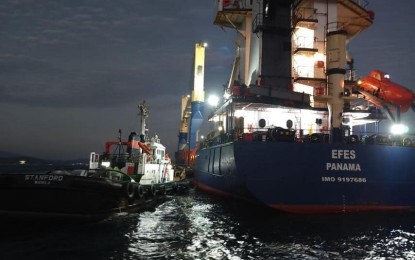 CITY OF CALAPAN, Oriental Mindoro – The Philippine Coast Guard (PCG) rescued on Tuesday 20 crew members of a tanker off Naujan town in Oriental Mindoro province early Tuesday morning that was found half-submerged due to engine trouble and bad weather.
The Coast Guard is also assessing the vicinity for possible traces of an oil spill.
In a social media post, the PCG said it deployed Barko ng Republika ng Pilipinas (BRP) Melchora Aquino (MRRV-9702) – a Multi-Role Response Vessel - and one airbus helicopter to respond "to a maritime incident involving a half-submerged motor tanker, in the vicinity of Balingawan Point in Naujan, Oriental Mindoro."
"The vessel drifted towards the vicinity waters off Balingawan Point due to rough sea conditions until it became half-submerged," said the PCG in its initial investigation report posted on social media.
The PCG said the tanker, MT Princess Empress, came from Bataan province and was en route to Iloilo province.
Meanwhile, the 20 rescued crew members were physically checked at a hospital in Naujan and found to be in stable condition, the PCG added. (PNA)