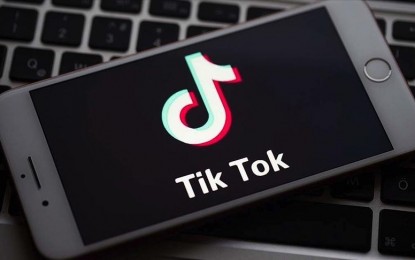 ISTANBUL – The US administration is taking "every step" to protect Americans' data amid the ban of the popular Chinese social media app TikTok, a White House official said Tuesday.
"We've been clear about our concerns about apps like TikTok," said spokeswoman Olivia Dalton.
"The Biden administration is focused on the challenge of certain countries, including China, seeking to leverage digital technologies and Americans' data in ways that present unacceptable national security risks. That's why we're taking every step we can within the executive branch authority, including enacting the first ever presidential directive defining additional national security factors for CFIUS to consider in line with this administration's national security priorities like protecting Americans' sensitive data."
The Committee on Foreign Investment in the United States, or CFIUS, is an inter-agency committee authorized to review certain transactions involving foreign investment in the US to determine the effect of such transactions on national security.
The Office of Management and Budget, the largest within the executive office of the US president, issued a memorandum Monday for the heads of executive departments and agencies to develop standards and guidelines requiring the removal of TikTok from federal information technology and directed agencies to remove the app from the federal devices and providing instructions and deadlines for that removal.
"Last year, President (Joe) Biden put forward an executive order to protect American sensitive data from collecting collection and utilization. So we'll continue to look at other actions that we can take and that includes how to work with Congress on this issue," said Dalton.
Several US states have banned TikTok on government-issued devices amid potential security risks. (Anadolu)