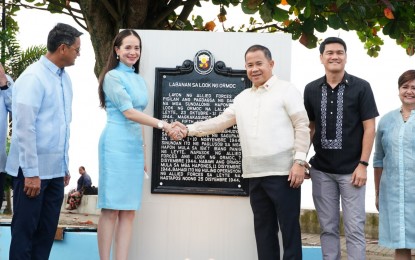 TACLOBAN CITY – The National Historical Commission of the Philippines (NHCP) and the Ormoc City government unveiled a historical marker Wednesday to remember the Battle of Ormoc Bay.
NHCP Chairperson Rene Escalante turned over the marker to Ormoc City Mayor Lucy Torres-Gomez, as witnessed by her husband, Leyte 4th District Representative Richard Gomez, and NHCP Deputy Executive Director Alvin Alcid.
The unveiling of the marker commemorates the Battle of Ormoc Bay between the Allied forces and Japanese forces that took place from Oct. 23 to Dec. 11, 1944.
In her message, Mayor Gomez said with the installation of the marker, Ormoc Bay is no longer just an ordinary body of water but a "certified storyteller" narrating the Filipinos' story of suffering, defeat, and victory, stories of life and death, of war, criminality, and natural calamities.

"If these waters could speak, she will also tell us the story of hope the inherent value of the people of Ormoc that makes us resilient," the mayor said.
Escalante, for his part, said the marker of the Battle of Ormoc shows the courage and bravery of the Allied powers who fought against Japanese forces. It also recognizes Filipino guerillas and civilians who helped in the liberation campaign in various ways.
The site where the historical marker is located will now become part of the Philippine Registry of Historic Sites and Structures and will be forwarded to the National Commission for Culture and the Arts (NCCA) for it to be included in the Philippine Registry of Cultural Property.
The NHC official also expressed hope that the marker will encourage and inspire more local historians to extend their knowledge of the history, particularly of Ormoc and Leyte.
The Battle of Ormoc lasted for more than a month and eventually prevented the Japanese forces from resupplying and reinforcing their troops in Leyte which significantly contributed to the victory of Allied forces in the land battle. (PNA)