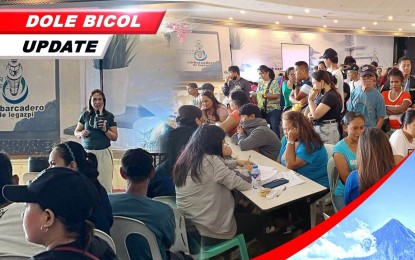 LEGAZPI CITY – The Department of Labor and Employment in Bicol (DOLE-5) has partnered with the Technical Education and Skills Development Authority in the region (TESDA-5) and other agencies in a project that will uplift the socio-economic status of informal food vendors in this city.
In an interview on Wednesday, Johana Vi Gasga, DOLE-Bicol spokesperson, said the "Pagkaing Oragon" project aims to elevate and transform the image of the hardworking street food vendors by promoting strategies for safe food handling.
"Consumption of street food is common as it not only provides convenient and affordable food items but is likewise a source of livelihood for many," she noted.
Gasga said around 80 beneficiaries were profiled for the project.
"DOLE will be providing the funding for the project. The Regional Tripartite Wages and Productivity Board (RTWPD) will focus on providing training on grooming the quality service. The Department of Trade and Industry (DTI) will help with the packaging and labeling as well as food preparation and TESDA on the fabrication of Nego-Kart and other related training. Meanwhile, the local government of Albay will undertake the provision of facilities and relocation for the beneficiaries," she said.
Ma. Zenaida Angara-Campita, DOLE-5 regional director, said the main objective of the project is to help remove the stigma on the street food business as a "hepa lane" where people fear contracting food-borne diseases such as hepatitis due to unhygienic food preparation.
With the "Pagkaing Oragon", she said they aim to promote a safe food zone destination in Albay province.
Campita said this will consequently bring in more customers and generate more sales, thus, providing more sustainable livelihood for the vendors. (PNA)