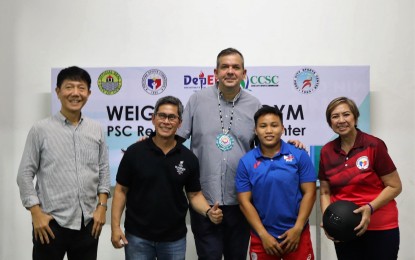 MANILA – The Philippine Sports Commission (PSC) is eyeing a consolidated national calendar to create more comprehensive grassroots programs that will produce world-class athletes.
Given the lack of resources, PSC chair Richard Bachmann said a consolidated calendar would avoid duplications and overlaps and allow the agency to prepare better.
"We have to continue to cultivate the grassroots in order to feed the elite level with fresh talents," he said in a news release on Friday.
The past weeks saw Bachmann visiting PSC-supervised facilities and other training venues of national athletes.
On Thursday, Bachmann and PSC Commissioners Edward Hayco, Bong Coo and Walter Torres went to Cebu City Sports Center for an observation tour of the grassroots sports development program.
The PSC Board also attended the ribbon-cutting ceremony of the PSC Regional Training Center for Weightlifting, in partnership with the Department of Education, at the Labangon Elementary School.
Tokyo Olympian and Southeast Asian Games medalist Elreen Ando, who hails from Barangay Carreta in the city, graced the ribbon-cutting ceremony.
Ando is a product of the Philippine Youth Games-Batang Pinoy, a brainchild of former PSC commissioner Monico Puentevella who is now president of the Samahang Weightlifting ng Pilipinas.
The PSC will establish satellite offices nationwide to ensure that grassroots programs are supervised.
"This is a good way to have more Elreen Andos, and Hidilyn Diazes in Philippine sports. I hope we can develop more homegrown talent and strengthen our national team, and to nourish our chances of winning more Olympic gold medals in the future," said Bachmann.
The PSC officials also graced the launching of the attempt to make the Guinness World Records for the Largest Gymnastics Hoops Workout.
They then went to Mandaue City where they paid a courtesy visit on Presidential Assistant for the Visayas Undersecretary Terence Calatrava, who pledged his support to the PSC on future collaborations in grassroots sports development in the region.
The PSC Board is scheduled to visit Zamboanga soon to meet with national athletes. (PNA)