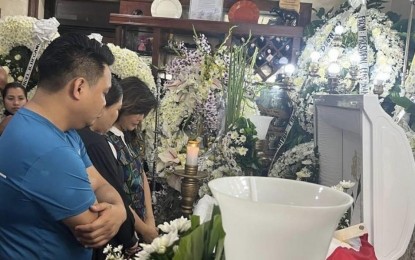 MANILA – Senator Imee Marcos on Sunday suggested that Negros Oriental be placed under a state of emergency for justice to be swiftly served following the brutal slaying of Governor Roel Degamo and eight others.
Marcos, who had worked with Degamo in the Governors' League when she was still the governor of Ilocos Norte, also said Negros Oriental should be locked down so those who were behind the killing could not leave the province.
"Nananawagan ako na ideklara na sa lalong madaling panahon ang state of emergency sa entero probinsya ng Negros Oriental. Kailangan matigil at mahuli itong mga ito hindi lamang 'yung mga hitmen or 'yung pumatay kundi 'yung mga mastermind, mga paymaster nila, at sinuman ang nag-conspire para mangyari ito (I am calling for the declaration of state of emergency in the entire province of Negros Oriental as soon as possible. This needs to stop and not only the hitmen or the murderers but also the mastermind, their paymasters, and whoever conspired to make this happen should be apprehended)," Marcos said during an interview after she visited the wake of Degamo in Dumaguete City.
She expressed hope that the arrested suspects will cooperate and could lead to the identification of other individuals responsible for Saturday morning's gun attack.
"Let us leave no stone unturned and no culprits unpunished. This cannot go unpunished and the perpetrators of this heinous crime, barbaric as it is and cowardly, should be punished as soon as possible," she said.
Marcos also paid tribute to her former colleague.
"Governor Roel made a great contribution in initiating the local peace talks with the NPA [New People's Army] through President [Rodrigo] Duterte at that time. I was also fighting for more investments in agriculture and similarly, Governor Roel was very concerned about fisheries and the restoration of the old Fisheries Code under my father," she said.
The senator is supposed to visit the province on March 28 and lead the distribution of Assistance to Individuals in Crisis Situation, together with Degamo, to single mothers, persons with disabilities, and senior citizens.
It can be recalled that during the attack, Degamo and other officials were inside his residential compound in Pamplona town, preparing the assistance coursed through Marcos' office when the attack happened.
"Ang lungkot nga eh. Pinapunta niya pa lahat ng tao sa kapitolyo on a Saturday sa bahay niya para matapos 'yung listahan at magawa na 'yung program ko (It's sad. He asked capitol employees to go to his house on a Saturday to finish the list so my program can be finalized). It's really a shame and I know what Roel been through in the past one and a half year. It has been very hard for him," she said.
Senators condemn attack
Meanwhile, other senators also condemned the killings and asked authorities to swiftly solve the case.
Senate President Juan Miguel Zubiri expressed alarm over the surge of assassinations of local chief executives in the past weeks.
Zubiri was referring to the attack against Lanao del Sur Gov. Mamintal Adiong, the recent ambush on Datu Montawal, Maguindanao del Sur Mayor Ohto Montawal, and the killing of Vice Mayor Rommel Almeda in Cagayan.
"For this ambush to happen while Gov. Degamo was in the middle of attending to 4Ps [Pantawid Pamilyang Pilipino Program] beneficiaries is absolutely appalling. It is sick and heartless, and the suspects should rot in jail. Heads must roll, and the PNP [Philippine National Police] must crack down on this case immediately," Zubiri said in a statement.
"Every single incident like this ambush puts a dent in our people's trust in the government. It is a failure of intelligence, a failure of police visibility, a failure of our peace and security efforts," he added.
Senate Majority Leader Joel Villanueva said the PNP must put an end to the killings and not wait for a similar incident to happen again.
"These killings must end now. These acts of violence and lawlessness are a clear display of arrogance against our government. We should never be accustomed to these senseless killings. We call on the PNP to act swiftly and put these criminals behind bars," Villanueva said in a separate statement.
Senator Ramon Revilla Jr. said such incidents are not merely acts against the persons who were targeted, but also an attack against the people who elected them and against democracy itself.
"They must put to stop lip service and instead make sure they put an end to this kind of lawlessness. Parang pinaglalaruan na lang sila ng mga kriminal kasi sa loob pa mismo ng kanyang tahanan (They are being fooled by these criminals because [it actually happened] inside his home]," Revilla said.
Senator Sherwin Gatchalian said any form of violence and intimidation have no place in a civilized and democratic society like the Philippines.
"I call on authorities to bring the assailants before the court of law, and ensure that justice is served as soon as possible," Gatchalian said.
Citing the shooting incidents as "gangland-style" executed in broad daylight, Senator Grace Poe said it etched fears in Filipinos about how easily lives can be taken even of people who are in power.
"We call on the police and other law enforcement agencies to wield their authority against these criminals who undermine the peace and order in our country," Poe said in a separate statement.
"Authorities must act quickly before the next target falls, and to assure our people that the open season for killings will not come upon us."
Senator Lito Lapid said the killing showed neglect not only of life but also of democracy and the law.
"Mariin po nating kinokondena ang krimen na ito at kasama po tayo sa pagtawag ng hustisya para sa kanilang mga na-ulila at sa ating mga kababayan sa (We strongly condemn this crime and I am with everyone calling for justice for their loved ones and the people of) Negros Oriental," Lapid said.
Three suspects were apprehended hours after the attack while another one was killed in an encounter early Sunday morning.
Pursuing operatives also discovered an arms cache in Barangay Cansumalig, Bayawan City, near the area where vehicles used in the assassination were abandoned.
'Heartbreaking, senseless'
The Diocese of Dumaguete lamented that the culture of violence continues to torment society.
"I strongly condemn this heartbreaking and senseless act of murder in Negros Oriental! When will this cycle of killings ever stop? We pray, then, that the perpetrators behind this bloodshed be brought to justice soon," Bishop Julito Cortes said in a statement.
He said the death of Degamo under violent circumstances has shaken the province anew.
"With deep sadness, then, I extend sincerest condolences to (Pamplona) Mayor Janice and the rest of the Degamo family," Cortes said. "Condolences as well to the families of the other victims of the assassination today in Pamplona, Negros Oriental. May the God of compassion pour forth upon you all the strength and consolation you need in this time of great sorrow."
Cortes encouraged the public to pray the Oratio Imperata (Obligatory Prayer) to end killings in the province and appealed for calmness and vigilance amid the tension.
"For the rest of us in the community, let us admit that we are very much saddened and shocked. But let us remain calm and vigilant. Do not allow anger or fear to consume us. I urge all government agencies, national and local, especially the police and military, to work closely together for the speedy resolution of these cases, and thus, help us attain peace and justice in our island," he said.

Restore peace, order
Meanwhile, House Speaker Martin Romualdez urged the people of Negros Oriental to remain calm as he assured that the government will restore peace and order.
Romualdez said no less than President Ferdinand R. Marcos Jr. is on top of the situation to ensure that no further crimes of such nature will happen in the province.

"We assure the people of Negros na nandito tayo lahat, para malaman ng buong Negros Oriental na nandito ang buong pwersa ng gobyerno para matapos natin itong kaso na ito. We shall apprehend all the perpetrators of the crime including the mastermind (We assure the people of Negros that we are all here, the entire government force is here so that we can finish this case. We shall apprehend all the perpetrators of the crime including the mastermind)," Romualdez said in a statement. (With reports from Ferdinand Patinio, Zaldy De Layola /PNA)