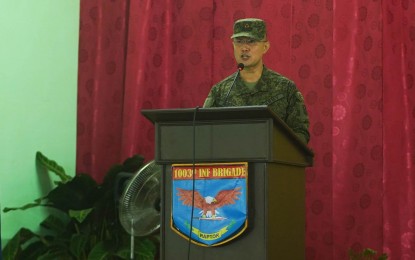 DAVAO CITY – A new commander of the 1003rd Infantry Brigade (1003IB) has promised to continue the gains that his predecessor has achieved in preventing the resurgence of the New People's Army (NPA).
Col. Marion Angcao, who replaced Brig. Gen. Consolito Yecla as commander of the 1003IB, made his promise during the Change of Command rites at Camp Don Mariano in Barangay Malagos, Davao City on Saturday.
"We will continue to adopt innovative approaches and evolve to overcome whatever challenges posed before this unit -- to continue the gains in preventing the resurgence of the New People's Army. [We] will collectively strive for excellence as we carry on the legacy set by my predecessor," he said.
The 100st IB in Sitio Quarry, Barangay Mapa-ang, Maco, Davao De Oro also has a new brigade commander in Col. Felix Ronnie Babac, replacing Brig. Gen. Jesus Durante III.
Maj. Gen. Jose Eriel Niembra, commander of the 10th Infantry Division (10ID), spearheaded both change of command ceremonies.
Before his assumption, Angcao served as the deputy commander of the 1003IB, assistant chief of unified command staff for plans of the Eastern Mindanao Command (Eastmincom), acting chief of staff of the Presidential Security Group and commander of the 73rd Infantry Battalion (73IB).
Meanwhile, Babac served as the 10ID chief of staff from 2012 to 2013 and Eastmincom chief of operations and intelligence from 2017 to 2019.
Babac led the 73IB in Davao del Sur and later Davao Occidental from Jan. 19, 2015 to Jan. 19, 2017.
He was a member of the Philippine Military Academy (Maalab) Class of 1993 and holds two master's degrees in Development and Security from the Development Academy of the Philippines and in Strategic Security Studies at the National Defense University in Washington DC, USA, where he graduated in June 2020.
In his message, Niembra encouraged both commanders to give their best shot as brigade commanders.
He also commended the brand of leadership and excellence of Yecla while recognizing the vast role of stakeholders in the recent and continuing success of peace and sustainment efforts of 10ID.
"The accomplishments of the 1003rd Brigade are difficult to achieve. Years have passed, and many commanders were here before us, but no one cleared Davao City except Brig. Gen Yecla, and with that, I commend his leadership," Niembra said.
For the 1001IB, Niembra told Angcao that he highly expects the new commander to bring more hope to the troopers, especially to the people of Davao De Oro, Davao Del Norte and parts of Agusan Del Sur.
"As I always say, being a commander is like driving a race car. You must know when to apply the break, and you must know when to go full speed ahead. Pag binigyan ka ng (If given a) chance, you go for it," Niembra said. (PNA)