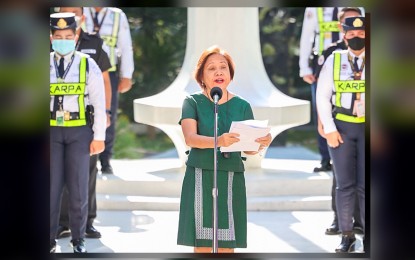 MANILA – Women empowerment, breaking gender biases, and promoting equality among communities would significantly contribute to the country's economic growth, according to Senator Cynthia Villar.
In her inspirational message during the 2023 National Women's Month Celebration at the Department of Agriculture (DA) office in Quezon City on Monday, Villar emphasized the need to empower and equip women to help strengthen the country's food security and production.
"If half of the population of the Philippines are women and contribute to the betterment of the country, it will create a positive impact on our economy," she said during the celebration with a theme "We for gender equality and inclusive society" and sub-theme: "Expanded Opportunities for Women Participation, Leadership and Benefits in Science, Technology and Innovation (STI), ICT, Infrastructure and Energy".
The senator also urged heads of government offices to encourage their employees to engage and participate in activities that promote equal opportunities for women during the celebration of Women's Day on March 8. March is also being celebrated as Women's Month.
"Women have a lot to contribute to the development of our nation given the proper opportunities and training," Villar said as she emphasized how she was mentored by her grandmother on how to earn, save and spend money wisely.
The DA and its regional offices had prepared various activities for the month-long celebration.
Republic Act No. 6949 declares the 8th day of March of every year as a special working holiday in celebration of National Women's Day.
The event is also being celebrated internationally as the day when women are recognized for their achievements without regard to divisions, whether national, ethnic, linguistic, cultural, economic, or political. (PNA)