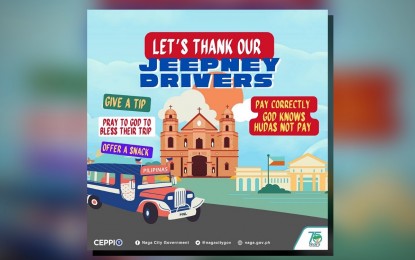 LEGAZPI CITY – Naga Mayor Nelson Legacion on Monday thanked the jeepney cooperatives in the city for not participating in the weeklong strike and instead supported the jeepney modernization program.
"To all jeepneys drivers and operators who thought of us when they decided not to join the strike, may this week, we think about them. Let's pay tribute to our jeepney drivers in a simple but meaningful way. If possible, let's give them a tip or a snack. Let us pray that their operations will be safe and that they will return home safely to their families," Legacion said in a post on his social media account.
The mayor said jeepney drivers also have families to support, dreams to achieve, and noble adventures in life.
"Every day, they transport us safely and peacefully to our offices and schools and sightseeing spots. They are our #ByaHEROES and #TSuperMen," he added.
Meanwhile, in Albay province, the transport strike was barely noticed by residents as only a few drivers and operators joined.
The provincial government also prepared contingencies to lessen the effects of the weeklong transport group strike.
Governor Edcel Grex Lagman assured the public that the province and all concerned agencies are closely monitoring events on the ground and ready to take immediate and appropriate actions if more operators and drivers would halt their operations.
Lagman said they were deploying buses or coasters and other assistance for stranded commuters.
"The Albay Public Safety and Emergency Management Office (APSEMO) is now mobilizing its assets to ensure peace and order in all possible affected areas in the province," he said.
APSEMO chief, Dr. Cedric Daep, in a radio interview, said they have deployed vehicles offering free rides and will continue to assess the ongoing transport strike.
"We are receiving a situational report from the drivers so that our operation (free ride) will have an analysis if we will continue or pull out or re-assigned," Daep said.
Daraga Mayor Carlwyn Baldo said all classes at all levels, public and private, shall shift to a blended mode of learning (modular or online).
"Face-to-face classes are suspended until further notice. May pasok online (There are online classes)," he said.
On the other hand, the Camarines Norte Provincial Information Office said there was no suspension of classes and work in the province.
"Nagkumpirma and Camarines Norte Federation of Transport Cooperative (CANFETRANSCO) na hindi sila sasama sa strike. Maaring may ilang transport group sa ating probinsiya ang hindi papasada, and mayorya po ng mga bayan ay may normal na operasyon ng transportasyon (The Camarines Norte Federation of Transport Cooperative (CANFETRANSCO) confirmed that they will not join the strike. There may be some transport groups in our province that will not ply routes, and the majority of towns have normal transport operations)," its social media post read. (PNA)