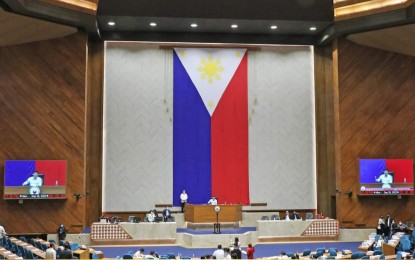 MANILA – With 290 votes, the House of Representatives on Monday unanimously approved on third and final reading House Bill No. 7355 which seeks the creation of the Negros Island Region (NIR) in the Visayas.
Under the proposed measure, the NIR shall be composed of the cities, municipalities and barangays in Negros Oriental, Negros Occidental and the island province of Siquijor.
The formation of the NIR has been a pipe dream for lawmakers in the region, as they believe that it is necessary for economic growth to redound to the benefit of the people through the close economic coordination of the two Negros provinces.
To date, Negros Occidental province and its capital Bacolod City are under Region 6 (Western Visayas) while Negros Oriental and Siquijor are part of Region 7 (Central Visayas).
On May 29, 2015, the NIR was first created through Executive Order 183 signed by then-President Benigno Aquino III, separating Negros Occidental from Western Visayas, and Negros Oriental from Central Visayas.
However, on Aug. 7, 2017, former President Rodrigo Duterte issued EO 38 abolishing the NIR, stressing the need to ensure that priority government programs and projects are sufficiently funded.
The measure creating the NIR gained traction in this 19th Congress under the administration of President Ferdinand R. Marcos Jr.
It is one of the 12 priority measures of the Marcos administration that the House of Representatives under the leadership of Speaker Martin Romualdez vowed to pass this year.
Once enacted into law, the measure provides for the creation of the Negros Island technical working group (TWG) that "shall formulate strategic plans to put in place the institutional arrangements for the NIR; recommend to the Office of the President the preferred location of the Regional Center; arrange the requirements for the organizational development, staffing, and budgeting of regional line and regulatory agencies, as well as the imperatives for development planning and investment programming."
It will be composed of representatives from the Office of the President, the Department of Budget and Management, the Department of the Interior and Local Government, the representatives of the Office of the Governor of the provinces of Negros Oriental, Negros Occidental, and Siquijor, and all the elected district representatives of the said provinces, including the representative of Bacolod City.
As per HB No. 7355, all departments, bureaus, offices, agencies, and instrumentalities of the national government, including government-owned or controlled corporations and government financial institutions, are hereby directed to extend full assistance to the NIR-TWG in support of its functions and activities.
The bill is a consolidation of House Bill 119 of 4th Dist. Negros Occidental Representative Juliet Marie de Leon Ferrer; HB 330 by 2nd Dist. Negros Occidental Rep. Alfredo Maranon III; and HB 1446 by 3rd Dist. Negros Occidental Rep. Jose Francisco Benitez, ABANG LINGKOD Party-list Rep. Joseph Stephen Paduano, 1st Dist. Negros Occidental Rep. Gerardo Valmayor Jr., 5th Dist. Negros Occidental Rep. Emilio Bernardino Yulo, 6th Dist. Negros Occidental Rep. Mercedes Alvarez, and Bacolod City Rep. Greg Gasataya.
The authors said the inclusion of Siquijor Province in the proposed NIR is "logical and practical" due to its proximity and cultural similarities to Negros Island. (PNA)