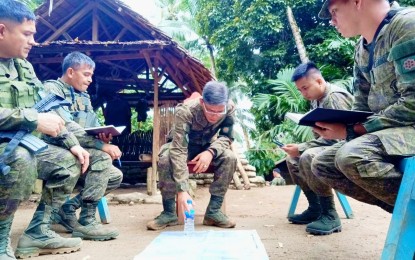 TACLOBAN CITY – The Philippine Army is checking the capability of patrol bases of the Citizen Armed Force Geographical Unit (CAFGU) Active Auxiliary (CAA) to check their capabilities to maintain the insurgency-free status of remote communities in Leyte province.
Army 802nd Infantry Brigade commander Brig. Gen. Noel Vestuir said he has already visited 12 of the 22 CAA patrol bases in Leyte this year to check their situation and boost their morale.
"Our CAAs are part of our Integrated Territorial Defense System. They have been securing the communities particularly former guerrilla bases and guerrilla zones or former mass base areas, block the New People's Army (NPA) mobility corridors, and prevent recovery efforts in cleared areas," Vestuir said in a phone interview.
Among the recently visited patrol bases are located in Cansiboy and Kagbana villages in Burauen town, San Vicente in MacArthur town, Lobelobe in Dagami town and Villa Conzoilo in Jaro town.
The brigade's area of responsibility includes the provinces of Leyte, Southern Leyte and Biliran with a total of 865 irregular auxiliary forces.
"They serve as a physical and psychological barrier that would deny the Communist Party of the Philippines-NPA-National Democratic Front violent and non-violent activities against our people and the communities," Vestuir added.
The official lauded the CAA for their effort to maintain peace since there have been no violent activities by rebels were recorded in the area being secured by the patrol base.
Vestuir said Leyte Island is not completely free from NPA threats since there are still remnants of rebels in the mountains. These remaining rebels have no capabilities to fight government forces, according to the official. (PNA)