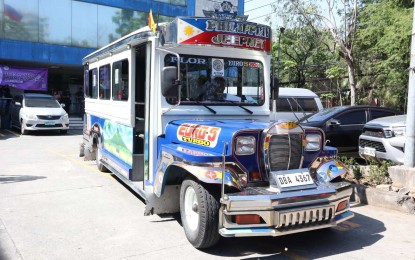 MANILA – The Land Transportation Franchising and Regulatory Board (LTFRB) on Tuesday assured that the modernization of the jeepney would not erase its iconic look.
This was after it unveiled a new model of the popular public transport vehicle on Monday.
In a statement, the LTFRB said the jeepney has a classic design that resembles the old jeepneys, but with upgraded features, such as a higher ceiling, doors on both sides, optional air-conditioning, and CCTV cameras for security.
It is also compliant with the Philippine National Standards set by the Department of Trade and Industry.
LTFRB chair Teofilo Guadiz III said the new jeepney is proof that its traditional look could be maintained while improving its roadworthiness.
"The traditional look can be maintained so the possibility of a phase-out is very, very remote. What we only wanted was to improve the roadworthiness of the vehicle," Guadiz said.
He added that the LTFRB is open to the suggestion of President Ferdinand R. Marcos Jr. to allow existing jeepneys that are still in good condition to operate.
The modern jeepney is locally manufactured and can accommodate more passengers than the old ones.
Guadiz said the LTFRB would conduct consultations with jeepney operators and drivers to discuss the details of the modernization program.
Meanwhile, the LTFRB remains open to dialogue with the transport groups that are participating in the ongoing transport strike to listen and discuss their grievances related to the public utility vehicle (PUV) modernization program.
The LTFRB, together with the Department of Transportation, other government agencies, and local governments, are also ready to assist the passengers who may be affected by the continued strike of some drivers and operators in the next days.
Earlier, the MMDA said it would dispatch 14 buses on five separate routes in the National Capital Region (NCR) during Tuesday's evening rush hour to ensure sufficient transportation for commuters.
This is despite the normalization of the public transportation situation in the NCR, with no reports of stranded passengers despite continued protests in some parts of the region. (PNA)