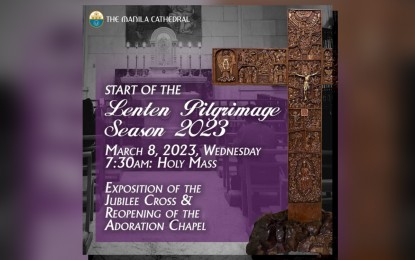 MANILA – The Manila Cathedral is open to pilgrims for the Season of Lenten.
In a social media post, it said a Holy Mass is scheduled on Wednesday, the official start of the Lenten pilgrimage season.
"To signal the beginning of Lenten pilgrimages this year, Fr. Kali Pietre M. Llamado will celebrate the 7:30 a.m. Mass on Wednesday, March 8," the Manila Cathedral said.
After the Mass, the priest will expose to pilgrims the Jubilee Cross where the relic of the True Cross of our Lord is enshrined.
He will also bring the Most Holy Sacrament to the adoration chapel as it reopens for the pilgrims.
"May your visit to the Cathedral be truly a spiritual experience to prepare ourselves for the worthy celebration of the Paschal Mystery of our Lord," it said.
A pilgrimage is traveling to a destination, such as a holy site, outdoor space, or even near to home, in a bid to be closer to God.
The 40-day Lenten Season started on Feb. 22, Ash Wednesday. It is a period of prayer, sacrifice, and charity for Catholics. (PNA)