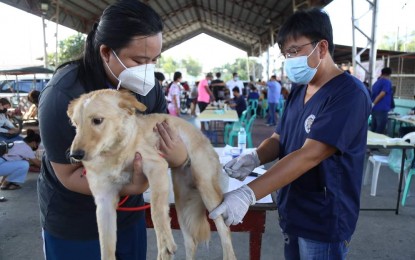 MALASIQUI, Pangasinan – The Provincial Health Office (PHO) has recorded seven deaths due to rabies in 2022, 30 percent lower than the 10 cases in 2021.
In a virtual forum hosted by the Philippine Information Agency in Pangasinan on Tuesday, Dr. Cielo Almoite, provincial health officer for public health service, said the number of rabies cases in the province has been declining since 2018 due to the level of awareness of the residents in getting anti-rabies shots if bitten by an animal.
She said 14 cases were reported in 2018, 13 in 2019, 11 in 2020, 10 in 2021, and seven in 2022.
The PHO said only cases resulting in death are counted as a rabies case. The rest are only classified as a case of animal bite.
"As of March 1 this year, there were no recorded rabies cases yet in the province," she said.
Almoite said the programs implemented by the provincial government and the Provincial Veterinary Office have been effective but they continue campaigning to bring down the cases to zero.
She said the province currently has 28 Animal Bite Treatment Centers.
"Every year, the number of those availing rabies vaccines in the centers has been increasing. Although, there are still those availing of the traditional way or the supsup, they also avail of the vaccines," she added.
Despite a limited supply, Almoite reminded the public that the rabies vaccine for those who have been bitten by an animal is available and free.
Among the towns and cities with rabies cases are Alaminos City, Bolinao, Aguilar, Tayug, San Fabian, Sta. Barbara, and Mangatarem towns.
Most of the victims are either adults or children below 15.
"Most of the victims failed to report to their parents about the incident of biting and were not able to get immunized with anti-rabies [vaccine]," she said.
Meanwhile, Alaminos City veterinarian Dr. Ronaldo Abarra, in the same forum, said they are proactively reaching out to pet owners in the community to encourage them to have their pets vaccinated.
"According to the World Health Organization, there is the need to inoculate 70 percent of the dog and cat population in an area to prevent rabies. We also asked pet owners to be responsible and there should be no stray cats and dogs in public places," he said. (PNA)