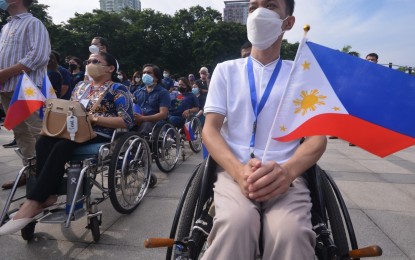 MANILA – The Commission on Elections (Comelec) is proposing to allow early voting for the members of the vulnerable sector in selected areas in the 2023 Barangay and Sangguniang Kabataan Elections (BSKE).
Comelec chairperson George Garcia said the proposal is for senior citizens, people with disabilities (PWDs), pregnant women and indigenous peoples (IPs) to be allowed to cast their votes hours early than regular voters on Election Day.
"I wrote a letter to the en banc in relation to early voting. While we are waiting for the law for early voting for seniors, PWD, pregnant women, IPs, while we are waiting for that, the Comelec must have an initiative, I am proposing to the en banc for purposes of the 2023 BSKE, pilot test in Luzon, Visayas, Mindanao and National Capital Region and least in 2 precincts, early voting hours for seniors, pwd, pregnant, IPs," he said in a presser at the National Election Summit in Pasay City on Wednesday.
In his proposal, certain precincts will serve such sectors for two hours from 5 a.m. to 7 a.m.
"That means, if voting starts at 7 a.m., maybe teachers can be convinced to open precincts from 5 a.m. to 7 a.m. for seniors, pwd, pregnant, IPs. At least, so they can vote conveniently. If the elderly, pwd, pregnant, IPs can vote, that's a huge convenience for them. Arriving at 7 a.m., it's open to everybody. That's why only 5 a.m. to 7 a.m. are exclusive to them. I'm hoping the en banc will allow us to do that," Garcia added.
He said the early voting will be implemented in most populous areas in the said regions
"We have instructed vulnerable sectors office to properly define the vulnerable sector so that there will be no confusions. We are asking the en banc to give the go signal. Then we will come up with guidelines," the poll body chief added.
On the other hand, he noted that he is ready to pull out the proposal once the law on early voting is passed.
"When the measure is passed into law, I will pull out this proposal since the law will allow early voting seven days or 14 days before election day," Garcia added. (PNA)