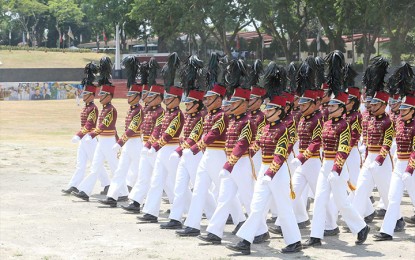 MANILA – The Senate Committee on Public Order and Dangerous Drugs on Wednesday expressed its determination to implement reforms at the Philippine National Police Academy (PNPA) through legislation.
This, after it came to the committee's attention that PNP cadets' status is equivalent to a job order (JO) employee of the government who is receiving salary without corresponding benefits.
National Police Commission (NAPOLCOM) Vice Chairperson and Executive Officer Alberto Bernardo said PNP cadets cannot be considered as regular employees in accordance with Republic Act 6975, otherwise known as the Department of the Interior and Local Government (DILG) Act of 1990.
"Meron po kasing provision yung Section 30 ng [RA] 6975 as amended na kinakailangan daw po kasing baccalaureate degree holder yung PNP kaya hindi po mai-consider ng Civil Service [Commission] kaya kailangan po talaga ng (There is a provision in Section 30 of RA 6975 as amended that PNP has to have to be a baccalaureate degree holder that's why the Civil Service Commission cannot consider it without a) legislation," Bernardo told the committee.
Senator Ronald dela Rosa, who is a former PNP chief and currently chairs the committee, filed a bill that seeks to consider PNP cadets as members of the PNP holding a position of Police Cadet who are entitled to benefits and salaries equivalent to that of a Police Executive Master Sergeant.
"Hindi niyo ito nakita noon? Kung hindi nagkadete yung anak ko, hindi ko ito nakita rin. Kawawa naman pala itong mga bata na ito. JO, kadete ng PNPA -- premiere police academy of the land tapos JO ang status (You did not see this before? If my child did not become a cadet, I would not know this either. These children are pitiful. JO, PNPA's cadet -- premiere police academy of the land but has a status of JO)," said Dela Rosa.
Lt. Gen. Rhoderick Armamento, a former PNPA Superintendent, said they have been pushing for the status of PNPA cadets to be recognized considering the benefits they can enjoy.
"Even up to this moment, wala pong nare-recieve na even medical benefits or any entitlements ang ating mga kadete. Kung may mga nangyayaring incident dun, nag-aambagan kami para lang makatulong kami dun sa mga parents nung kadete (Even up to this moment, our cadets do not receive even medical benefits or any entitlements. If there are incidents there, we just contribute to help the parents of the cadet)," Armamento said, which saddened Senator JV Ejercito.
"It's sad to hear na nagpa-pass the buck sila para lang makatulong kung may mangyaring aksidente o anuman ano (It's sad to hear that they are just passing the buck to help if there are accidents or whatever). That's really good to take into consideration," Ejercito said.
Maj. Gen. Jonnel Estomo, PNP Deputy Chief for Operation, suggested to provide the PNPA with "fiscal autonomy" to be able for the academy to manage its own budget like the Philippine Military Academy.
Bernardo also vowed to submit to the committee the NAPOLCOM's proposals to establish a "core of professors" in the academy.
At present, the PNPA has 1,101 cadets who are divided into four classes.
The PNPA's planned reforms was taken into consideration during the committee's discussion of the measures filed by Dela Rosa, Ejercito, and Senator Ramon Revilla Jr. seeking to amend some provisions of the Republic Act 6975 which created the PNP.
These proposed measures aim to strengthen and restructure the PNP and create additional police offices to ensure the effective discharge of their duties amid the emergence of modern crimes, rapid increase in population, and growing number of police personnel. (PNA)