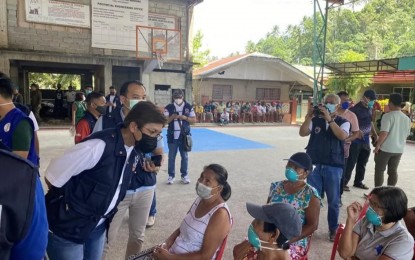 CITY OF CALAPAN, Oriental Mindoro – The result of the first air quality testing by the Department of Environment and Natural Resources (DENR) in the oil spill-affected areas of Oriental Mindoro has passed standards.
"Base sa resulta noong March 5 ay pasado pa ito sa national standards, o walang polusyon ng nitrogen dioxide at sulfur dioxide (Based on the March 5 results, air quality passed the national standards, or devoid of nitrogen dioxide and sulfur dioxide)," Governor Humerlito Dolor said in a social media post Tuesday afternoon.
On Wednesday afternoon, Dolor said the Department of Health (DOH) took groundwater samples and they are waiting for the results to be released.
This will be "followed by air testing to check if there are Volatile Organic Compounds (VOCs)," he added.
Dolor said DENR Secretary Antonia Loyzaga has directed sea water and air sampling every three days in 38 areas in the province.
On Feb. 28, the Philippine Coast Guard reported an oil spill from the Motor Tanker (MT) Princess Empress, which capsized off the coast of Naujan, Oriental Mindoro earlier that day. Reports said it was carrying 800,000 liters of industrial fuel oil.
On Monday, the provincial board passed a resolution declaring a state of calamity in 76 coastal villages across nine municipalities.
"The sinking resulted in the spillage of emulsified black and thick industrial oil, posing health hazards to affected residents and severely disrupting the livelihood of more than 15,000 fishermen, resorts, and other business establishments," the resolution stated.
On Tuesday, the DOH Center for Health and Development in Mimaropa (Mindoro, Marinduque, Romblon, Palawan), reported that medicines, face masks, nebulizers, oxygen concentrators, and other supplies were turned over to the provincial government of Oriental Mindoro.
"This incident calls for a whole-of-government approach, and with the environment being a major determinant of the health of our people, the DOH is working closely together with other concerned national government agencies and local government units to mitigate the effects of the oil spill to the affected communities," DOH Officer in Charge Dr. Maria Rosario Singh-Vergeire said during her visit to this city on Tuesday.
Meanwhile, at least 203 persons deprived of liberty (PDLs) have received free dental and legal aid services as this city kicked off on Tuesday the celebration of its silver founding anniversary on March 21.
In an interview on Wednesday, engineer Leody Gutierrez, Rotary-Calapan president, said they provided the PDLs with "hygiene kits and medicines."
"The private sector recognizes the efforts of the city and other partners in reaching out to those in need," he said.
Dubbed "Araw ng Katarungan" (Day of Justice), the activity was held at the Bureau of Jail Management and Penology (BJMP) District Jail in Barangay Sapul here.
It was facilitated by the City Legal Department and Public Attorney's Office and joined by volunteers from the Rotary Club of Calapan, Philippine Dental Association-Oriental Mindoro chapter and the Department of Education in this city.
City legal officer, lawyer Rey Daniel Acedillo, believes a better future for the PDLs is still possible if they are supported in the reformation agenda.
"They may be deprived of liberty but are nonetheless deserving of the care and assistance of the government and other compassionate groups and individuals," he said.
Mayor Malou Flores-Morillo said during the activity that she made sure the additional beddings she promised during her Jan. 25 visit to the PDLs were given.
In Sablayan town of Occidental Mindoro province, Mayor Bong Marquez recently fulfilled his promise of social pension to all 253 senior citizen PDLs at the Sablayan Prison and Penal Farm, according to Norman Novio, municipal administrator, on Wednesday.
"Even behind bars, they are recognized to be still with needs and neither to be discriminated against nor forgotten," Novio said. (PNA)