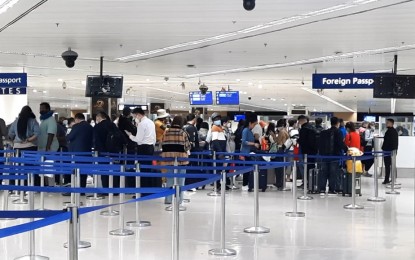 MANILA – The Bureau of Immigration (BI) on Thursday warned anew those who are looking to work abroad against job offers of illegal recruiters.
Immigration Commissioner Norman Tansingco issued the warning after the interception of four victims who attempted to depart for Singapore via a Jetstar Airlines flight to Singapore last March 1.
"These recruiters are crafty with their schemes, by using families with children as couriers. We have seen how victims have been exploited and even physically abused abroad. Aspiring OFWs should not accept offers they receive via social media. They should always secure work abroad through the Department of Migrant Workers," the BI chief said in a statement.
Ann Camille Mina, BI Travel Control and Enforcement Unit chief, said the four were escorted by a female recruiter traveling with her 4-year-old child.
During the interview, she noted that the group claimed that they were employees of a manpower agency but had numerous inconsistent statements.
They eventually admitted that they paid their recruiter PHP10,000 each as downpayment for their trip.
"We received intelligence information from the National Bureau of Investigation and the Inter-Agency Council Against Trafficking (IACAT) NAIA Task Force Against Trafficking about the departure of the victims that were said to be actually bound for Cambodia to work in offshore gaming operations," Mina said.
"We were able to intercept their attempt and prevent them from being victimized abroad," she added.
The victims and their recruiter were all turned over to the IACAT for further investigation. (PNA)