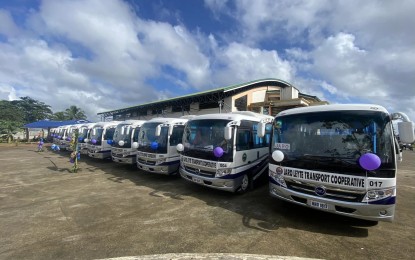 TACLOBAN CITY – Leyte Governor Carlos Jericho Petilla on Friday said it's time to push for the public utility vehicle modernization program (PUVMP) with the growing population and worsening traffic congestion in the country.
"The roads are not getting bigger, and the population is growing. We need to put less cars on the road. The modernized vehicle can accommodate more passengers," Petilla said in an interview with reporters.
However, the governor has called on the national government to find ways to make modern vehicles affordable to small operators.
"Traditionally, some of the jeepney drivers own their units. Under modernization, we need a facility for everyone to own a modern jeepney," Petilla added.
The governor made the statement days after the transport strike that affected Metro Manila commuters but hardly felt in other regions.
The PUVMP aims to achieve a restructured, modern, well-managed and environmentally sustainable transport sector where drivers and operators have stable, sufficient, and dignified livelihoods while commuters get to their destinations quickly, safely and comfortably, according to the Land Transportation Franchising and Regulatory Board. (PNA)