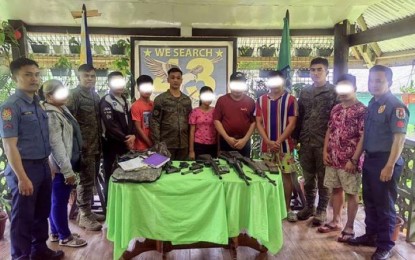 TACLOBAN CITY – Nine members of the New People's Army (NPA) have surrendered to government forces in two Samar provinces and yielded their firearms to authorities, the Philippine National Police (PNP) regional office here reported on Friday.
Of the nine rebels who gave up on March 8, six of them showed up to the police and military in Magsaysay village in Lope de Vega town, Northern Samar province.
Five were identified by their aliases as "Paz," 57; "Bembem," 25; "Jay-ar," 17; "Mara," 17; "Justin," 24; and Arthur De Guia, 31.
The surrenderers, who are residents of the towns of Catarman, Lope de Vega, San Isidro and Bobon in Northern Samar, have turned over two .45-caliber pistols, two 5.56 mm M16A rifles, a .38-caliber pistol, a 7.62mm M14 rifle, two magazines with 40 rounds of 7.62 ammunition, and a backpack containing subversive documents.
Their surrender is a result of joint negotiations between the 1st Northern Samar provincial mobile force company, the Philippine Army's 43rd Infantry Battalion, and the Lope de Vega municipal police station.
Said personalities are now under the custody of the Philippine Army for the facilitation and assessment of their possible enrollment in the government's financial assistance program while surrendered firearms and ammunition were turned in to the Northern Samar police provincial office supply for proper disposition.
Meanwhile, three NPA underground mass organization (UGMO) members also surrendered to authorities on the same day in Quinapondan town, Eastern Samar.
They were also known by their aliases "Armina," 64; "Daling," 67; and "Sarah," 31; all residents of General MacArthur town, Eastern Samar.
UGMOs have been established by the NPA inside open sectoral groups and open alliances to advance and support the armed atrocities and other activities of the rebel group.
Intelligence personnel from the 2nd Eastern Samar Provincial Mobile Force Company (2nd ESPMFC) and 805th Maneuver Company of the Police Regional Mobile Force Battalion received them.
The active support of an advocacy group was instrumental in locating and convincing the die-hard NPA supporters (to surrender), according to the police.
They are now under the custody of the 2nd ESPMFC for documentation and proper disposition while further verification in all courts is being facilitated for any possible standing warrant of arrest issued against them.

Brig. Gen. Rommel Francisco Marbil, PNP Eastern Visayas regional director, lauded the successful surrender of the said NPA members and staunch allies.
"Their surrender is a result of the intensive police and military operation in cooperation with the community in ending insurgency in the region. We will continue to encourage other rebels to surrender to the government and lay down their arms to put an end to this false propaganda once and for all," Marbil said in a statement.
Samar Island is considered the last bastion of insurgency in the country with four of the last five remaining guerilla fronts operating in the boundaries of three Samar provinces. (PNA)