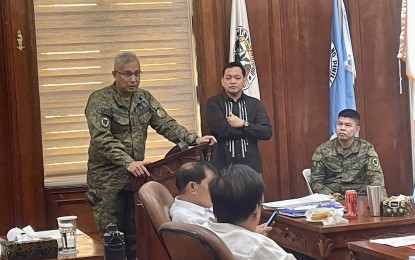 LAOAG CITY – The provincial government has advised the officials of the 21 towns and two cities of Ilocos Norte to take precautionary measures for this year's Philippines-United States "Balikatan" exercise.
Municipal government authorities in the coastal towns of the province -- Pagudpud, Bangui, Burgos and Pasuquin -- were told to prevent their constituents from venturing into the sea from March 10 to April 28 for their safety.
Provincial Board member Giancarlo Angelo S. Crisostomo, in his capacity as chairperson of the committee on peace and order, said Monday that this year's joint activities are expected to be bigger, considering the expansion of coverage of the Enhanced Defense Cooperation Agreement (EDCA) to include four more Philippine military bases where US forces can operate on a temporary basis.
In Ilocos Norte, a live fire exercise to test the newly-acquired weapons system of the United States and the Philippines will be set up in Burgos town.
An "observation area" will be established at the Cape Bojeador Lighthouse where distinguished visitors will be allowed to join.
"For the safety of our constituents and to minimize hazards during the activities, there is a need for our 21 towns and two cities and the offices and agencies connected therein to possibly relocate affected fisherfolk and make way for the traffic condition," Crisostomo said as he sponsored a resolution seeking the cooperation of all concerned local government units and other government line agencies in the preparations.
Aside from Ilocos Norte, other areas near the West Philippine Sea including the islands of Fuga and Calayan in Cagayan as well as in Batanes and Palawan are now being readied for the Balikatan exercises.
Col. Michael Logico, team leader of the 38th Balikatan Exercise and executive agent of the Armed Forces of the Philippines (AFP), said in an earlier interview that around 16,000 forces of the AFP and US military are teaming up for Balikatan 2023.
"Air mobile operations and logistics exercises will be conducted in these areas," he added.
The Balikatan 38-2023 aims to result in a credible defense function of the AFP along with its allies to counter terrorism and other threats. (PNA)