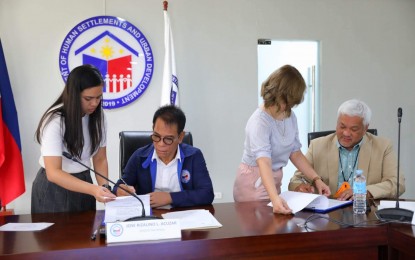 ANGELES CITY, Pampanga – A total of 15,000 housing units will rise in this city as part of the government's efforts to provide decent and affordable housing to Filipino families.
This is under the national housing flagship program of President Ferdinand Marcos Jr., called "Pambansang Pabahay Para sa Pilipino" (4PH) which aims to address the country's housing backlog by providing a safe, decent, and sustainable shelter to 6.5 million families in six years.
City Mayor Carmelo Lazatin Jr. signed on Monday a memorandum of understanding with the Department of Human Settlements and Urban Development (DHSUD) led by Secretary Jose Acuzar in Quezon City to formally kick off the project.
Under the project, 12 buildings with 22 stories each will be established in the city to accommodate the qualified beneficiaries.
Lazatin said this is a landmark and milestone project as Angeles City is among the beneficiaries of the 4PH.
"I cannot thank you enough for this opportunity of a lifetime. An opportunity for my cabalens (townmates) to have decent housing. Thank you very much as well for making Angeles City a part of President Marcos Jr.'s one million housing units per year," he said in a statement.
The mayor also said he is happy to continue his father's legacy through the help of President Marcos, Secretary Acuzar, and the whole DHSUD.
The incumbent mayor's late father, former Angeles City Mayor and First District Representative Carmelo Lazatin established the Local Urban Poor and Housing Affairs Office (LUPAHO), and was able to provide 15,000 decent housing to indigent families here during his administration.
With this new project, he said "mas lalawak po ang ating matutulungan (we could help more).
Under the MOU, the city government will provide the land for the project while DHSUD will be in charge of its implementation in collaboration with other key agencies.
The city government will also carry out the beneficiary listing, which shall include but not be limited to, social preparation, census enumeration, socio-economic profiling, and the establishment of social parameters. (PNA)