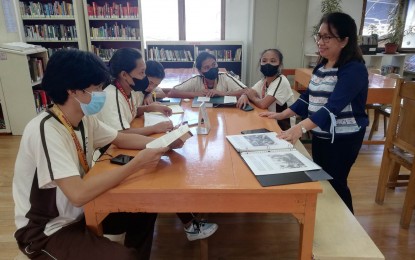 SAN JOSE DE BUENAVISTA, Antique – The Antique provincial library will be launching "Istoryahi Ko Nay," or a storytelling program to encourage mothers to develop the reading habit among their children.
Antique provincial librarian Grace Magullado, in an interview Monday, said they will launch the program at Barangay Maybato Sur in this capital town on March 16 as part of the celebration of the 64th Public Library Day and the Women's Month that will be attended by mothers and toddlers.
"We are encouraging mothers to hold a storytelling among their children so that they could develop the love of reading books, which is very important in their early childhood development," she said.
Magullado added that through storytelling, mothers can also strengthen their bond with their children.
Children, according to their librarian, have a more personal interaction with their mothers than their teachers and they could even lie down on their laps while listening to stories.
"There will be a storyteller that will demonstrate storytelling during the launching," the provincial librarian said.
She said the series of five books "Dorina" written by Antiqueño children's storybook writer, Linda Arnaez Lee, will be read by the storyteller.
The story's character "Dorina" is a little girl with different exciting adventures with animals.
"The children could really relate with 'Dorina' because it had also been written in the local dialect," Magullado said.
After the launching program, the provincial librarian said they will leave the "Dorina" books under the care of the Day Care teacher since there is no community reading center yet except for the Day Care Center in Barangay Maybato Sur.
"Mothers in the community could borrow the books at the Day Care Center," Magullado said.
Meanwhile, the provincial library is still lobbying for more book donations so that more reading materials could be made available for children visiting the library.
"We are accepting various books even textbooks so that children whose parents could not afford to buy it could access the books at the library," Magullado said. (PNA)