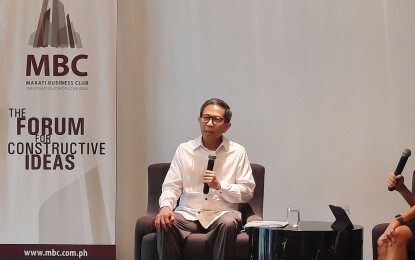 MANILA – Department of Energy (DOE) Secretary Raphael Lotilla Monday said his agency is looking to assess the taxes imposed in the energy sector to determine how these contributed to the high power cost in the country.
Speaking to the members of the Makati Business Club in Makati City, Lotilla said the government also needs to look into the possible impacts on power cost if it will impose a carbon tax.
"This is what we are trying to look at —the entire taxation system in the energy sector. So after making it (power) unsubsidized, we also have value-added tax (VAT), we also have excise tax, the VAT on excise tax, the VAT on system losses, and so many elements that add to the cost. Then there's proposal on carbon tax," he said.
Lotilla said DOE would like to study the proposal on carbon tax "more deliberately and more systematically" to determine the possible effects of its imposition to the energy sector.
"We need to have a better analysis of the taxes that are imposed on the energy sector," he told reporters on the sidelines of the event.
Lotilla said that while the DOE is looking at making power available and affordable to the consumers, these taxes are also a big source of revenue for the government to fund its various programs not limited to energy.
During the forum, the private sector cited the need to bring down power cost in the Philippines to attract more investors.
Lotilla said that aside from being an archipelagic country, which makes power infrastructure more challenging to build, other countries in the region have subsidized power costs. (PNA)