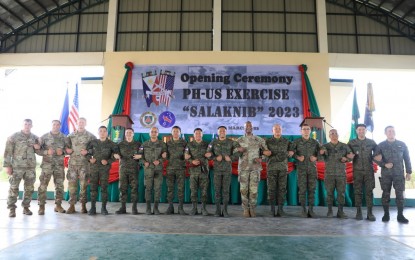 MANILA – Philippine Army (PA) chief Lt. Gen. Romeo Brawner Jr. said this year's iteration of Exercise "Salaknib" with American troops will greatly bolster its ongoing shift from internal to territorial defense.
In a statement Tuesday, he said bilateral training activities such as "Salaknib", which is being held from March 13 to April 4 with the United States Army Pacific (USARPAC), is of great value and of help.
"Indeed, there is much more we can learn from each other, and much more that we can do together, in the interest of Indo-Pacific security and wider security regional connectivity," Brawner said.
"Salaknib" is an Army-to-Army training program between the PA and USARPAC.
The opening ceremonies for "Salaknib" took place at Fort Magsaysay, Nueva Ecija on Monday
Brawer and US Army Corps commander Lt. Gen. Xavier T. Brunson were both present in the event.
"In the next few weeks, some 3,000 troops will take on a range of activities that reflect on present day scenarios and future possibilities," the PA chief said in his speech during the formal opening of the exercise.
"In learning together, we enhance the capabilities and capacities to work together within the ever changing dynamics of global developments and Indo-Pacific concerns," he added.
Some 3,000 troops from the USARPAC's 25th Infantry Division and PA's 5th Infantry Division, 7th Infantry Division and 1st Brigade Combat Team will be training side-by-side in a spectrum of military operations in the coming weeks.
Meanwhile, Brunson, in his remarks, said "Salaknib" is meant to improve human interoperability of both forces and strengthen the defense partnership of the two nations.
He also added that he is looking forward to the exercise improving the "already-strong human interoperability between our armies."
"The training audience will conduct bilateral exercises in Fort Magsaysay, Nueva Ecija and other venues in Central Luzon and Northern Luzon. 'Salaknib''s first phase will precede Exercise 'Balikatan' slated for April 2023 while its second phase is scheduled for the third quarter of 2023," Army spokesperson Col. Xerxes Trinidad said.
"Salaknib" (shield in Ilocano) is an annual Army-to-Army exercise geared at strengthening the interoperability of Filipino and American soldiers. (PNA)