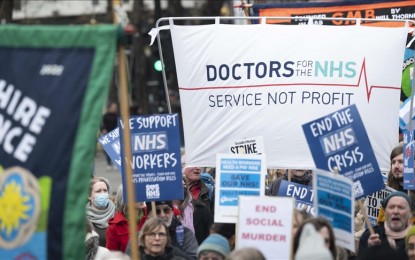 BIRMINGHAM, England – Tens of thousands of junior doctors in England have launched a three-day strike on Monday in a dispute over pay and working conditions.
The doctors have started forming picket lines outside hospitals across the country.
The British Medical Association (BMA), an association and trade union representing and negotiating on behalf of all doctors in the UK, has been campaigning for a pay rise for months in the country that is severely hit by the cost-of-living crisis.
However, negotiations between the unions and the government have not yet resulted in an agreement. The talks will continue this week with the hope of a breakthrough in the long-running pay dispute.
Prior to the start of the industrial action, BMA launched an advertising campaign saying junior doctors could earn more serving coffee at the cafe chain, Pret a Manger.
"Pret a Manger has announced it will pay up to £14.10 ($17) per hour. A junior doctor makes just £14.09. Thanks to this government you can make more serving coffee than saving patients. This week junior doctors will take strike action so they are paid what they are worth," BMA said.
It said junior doctors in England have suffered a 26.1% real-term cut to their pay since 2008/09 and are campaigning for pay restoration.
In a joint statement, BMA junior doctors committee co-chairs Robert Laurenson and Vivek Trivedi said: "Is £14.09 an hour really all junior doctors are worth? These are people who can be providing life-saving care, having trained intensively at medical school, and racking up around £100,000 worth of debt in the process.We are fully supportive of any worker getting an inflation matching pay rise, and it is worth thinking on the fact that the Government has cut junior doctors pay by so much that they could earn more serving coffee."
Becky Bates, a junior doctor in the East Midlands, joined the strike with a hope of a change in pay. "I thought by being a doctor I would be able to achieve financial independence, but instead I am still finding myself completely dependent on others."
"As a junior doctor, I can be responsible for more than 400 patients overnight – assessing them, prescribing medication, having difficult conversations with families about end-of-life care, and I can be the first port of call should something go terribly wrong. Yet our skills and responsibilities are being completely devalued," Bates said.
While the UK's healthcare system has always had problems, things have lately taken a turn for the worse amid the fallout of the Russia-Ukraine war, Brexit and a deepening cost-of-living crisis, reports by unions, universities and independent think tanks showed.
One in 10 healthcare workers quit their jobs in the 12 months prior to June last year, according to a study by Nuffield Trust, an independent health think tank in the UK. (Anadolu)